What Is a content brief?
A content brief is a document that defines the tone, the basic structure, and any specific requirements that you have for your content before you (or your writer) start writing.
They're an invaluable tool that help you define expectations for a content piece. A detailed content brief takes time to create but will lead to significant time and quality gains during the content creation process. A good content brief will make executing your content strategy easier and more efficient.
Do you remember that one time where you ordered a piece of content and what was delivered did not match your expectations at all? You probably did not provide enough information to your writer to make the content fit your needs.
How can you prevent that kind of thing from happening again?
By providing a great content brief.
What should your content brief include?
A good content brief should include as many of the criteria that matter to you as possible. This way you can avoid unnecessary back-and-forth with your freelance writer and set expectations from the start. At a high level, it should at the very least cover your brand guidelines, a content outline and your SEO requirements.
If your content brief is well written and exhaustive, your vision for the content will be cristal clear to your writer.
We already mentioned that you need to include brand, outline and SEO. But that's a bit broad so let's break it down into concrete chunks. At Dashword we recommend covering all of these in your brief:
Target audience
Tone of voice and company description
High quality content outline
Keyword suggestions
Examples of content you like
The required content length
1. Target audience
Your target audience is the group of readers you're trying to reach with your content. They can be defined by things like age, geographic location, interests, psychographics and so on. Be specific about who your target audience is. If you're too broad, you might as well not have one at all.
Know who your target audience is before you start writing content. Your content can't meet the needs of your audience if you don't know who they are. Your writer will be able to come up with a much more focused message if the target audience is clearly defined.
2. Tone of voice and company description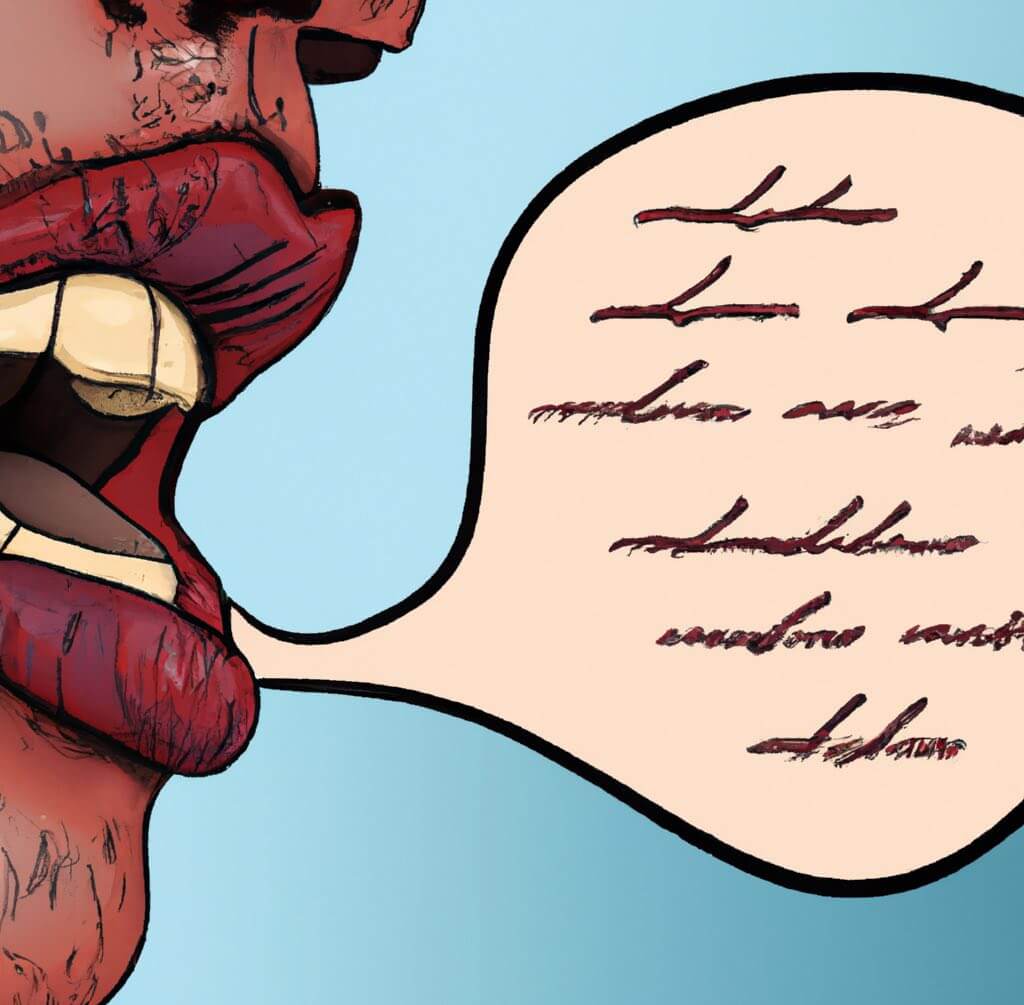 Give your writer enough information for them to understand your company and what you do. This might be less important if you've worked with your writer before. But if he's brand new to your company, this step is crucial.
Your tone of voice is equally important. Even a great writer needs to understand your company and the business you're in, in order to deliver his best work.
If your writer doesn't understand your tone of voice, you might end up with content that doesn't fit your website and feels out of place.
3. High quality content outline

A content outline defines the structure of your content. It's a list of all the different topics you're going to cover in your content. The outline doesn't need to be exhaustive, but it's a good idea to include at least what you consider as absolutely required.
With a good content outline you can communicate what angle your taking with your content. If you have something very specific in mind, you should come up with a title and (meta) description yourself, instead of outsourcing that to the writer.
It makes life easier for your writer too. He'll still need to research the subject you want to cover, but the research will be much more focused and faster with a good outline.
4. Keyword suggestions
For search engines to consider your content relevant to the keyword you're targeting, it needs to cover your subject in depth. We're no longer in 2006 where you can just repeat your target keyword a few times and call it a day.
We're assuming that you or your content strategist already put in the necessary work to come up with the subject of this content/blog post that you're writing. The next step is to define the keywords that are relevant to your content and should absolutely be included.
You can easily do this keyword research with a content optimization tool like Dashword. To find such keywords, Dashword analyzes the top 30 Google results to determine what keywords are relevant for a given subject. What used to be several hours of manual research can be done by Dashword in a matter of minutes.
5. Examples of content you like
Include in your brief examples of content that you like. This doesn't need to be content on the same subject or from your competitors (though it can be). What's important is that you find these examples well presented and engaging.
If there's things you absolutely don't like, you can include that as well.
6. The required content length
More content doesn't always mean better or higher ranking content. Google wants your articles to be relevant, not just long. If your audience is looking for a short answer they'll be intimidated by a 4000 words article. They'll hit the back button in no time and Google will consider your content less relevant.
The same is true if your content is too short to properly cover a subject.
We recommend doing the necessary research on what a good content length is for your subject. Consider your outline. If your outline has 10 headings, you probably need more than 800 words to cover your subject.
Leaving this up to the content writer will often lead to a content length that isn't necessarily ideal for your content, but ideal for your writer and his schedule.
If you're not sure about the length, you can always launch a Dashword report. It will tell you based on what's already ranking, for which word count you should be aiming.
Content brief examples
We've covered the theory but you're probably interested in seeing what a content brief looks like.
Instead of creating a fake one that wouldn't be very useful, we thought it would be interesting to share a real one that has actually been used.
This content brief was created by one of our customers before we had an automated brief builder.
The template is from a content writing service. Content writing services typically have entire teams of content writers whose full time job is coming up with good content. They want to avoid unnecessary back and forth with their customers so a good content brief (and template) litereally saves them time and money.
You'll see a lot of the elements that we covered in this article come back.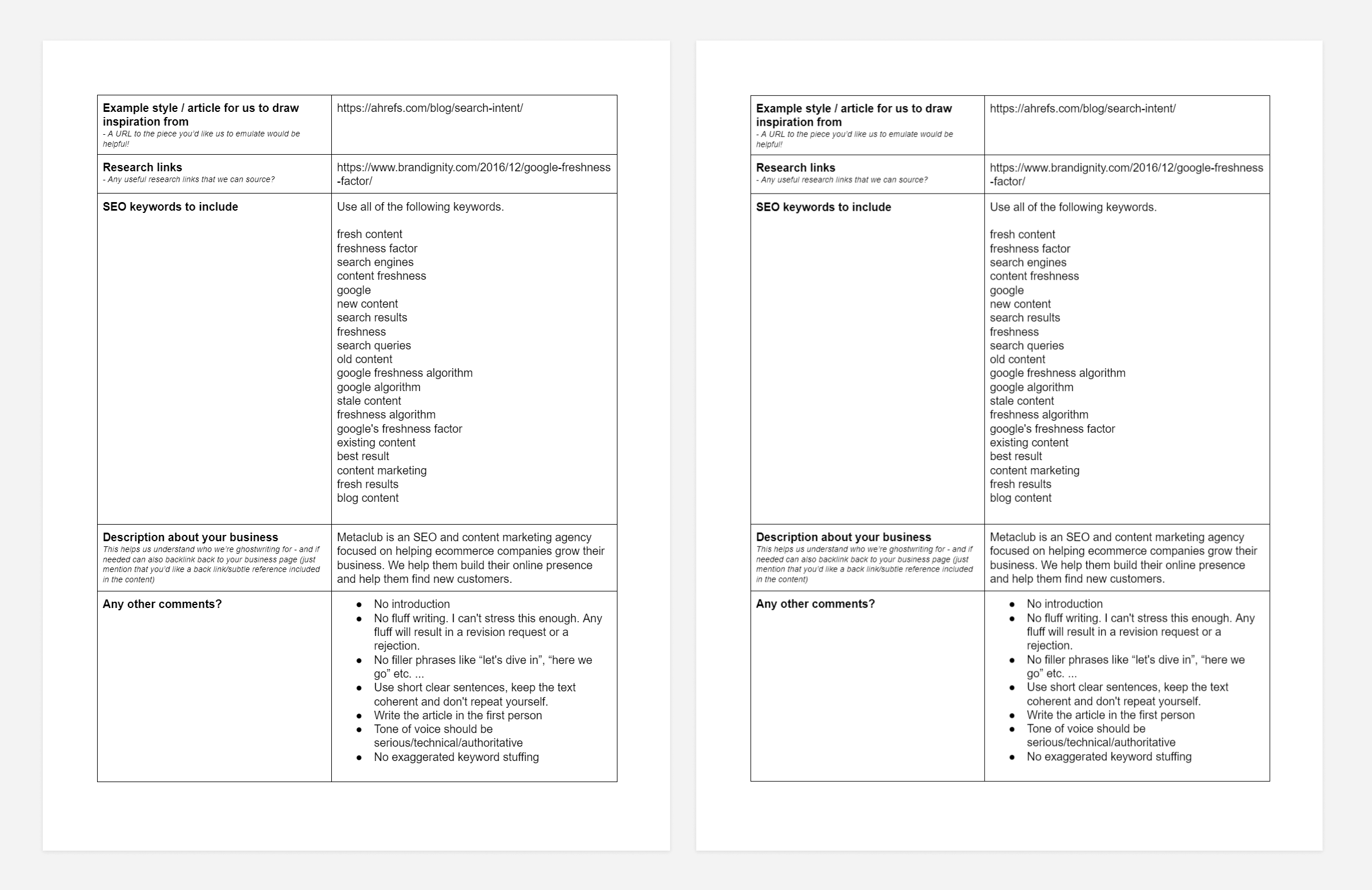 Our free content brief template
The easiest way to build a high quality content brief is using Dashword. The second easiest way, is using our free content brief template that is based on our brief builder. You can download our content brief template here.