What are "People also search for" results and when do they appear?
PASF suggestions turn up in your search results when you type in a search query, click on a given organic search result and then return to the search results page looking for more options. You'll then notice the PASF box right below the link you just visited.
This almost seems like Google suggesting, "Didn't find what you're looking for? These topics could help."
The search suggestions that appear in the PASF box are based on URLs. The topics you see in the box are related to the URL of the result you just clicked on and not the original search string you typed out.
Currently, the PASF box on desktop, pulls up six related topics, two lesser than the PASF results that you get on the SERPs on mobile devices.
Here's an example of what it looks like:

How to optimize your pages for PASF?
Know the search intent
You need to be able to create content that matches the search intent. For this, you will need to look up related searches, analyze the purpose of the search query, and drill down to what the customer is looking for.
Identify and implement key search terms
Do in-depth keyword research and identify relevant search terms that you can include in your content. To get your web page to rank higher, you need to include topically connected search terms and different questions that people use on search engines.
Add FAQ schema to your web pages and blog posts
Another great way to optimize your pages and find your way into Google's search-assisted features is to add a FAQ scheme on your website. This is a specialized markup code that you can place on your website to amplify your content for SEO.
Doing this will let the search engine know that your content is displayed in a question and answer format, making it eligible for rich snippets on Google's SERPs.
Tools that will help you find PASF keywords
Dashword PASF Finder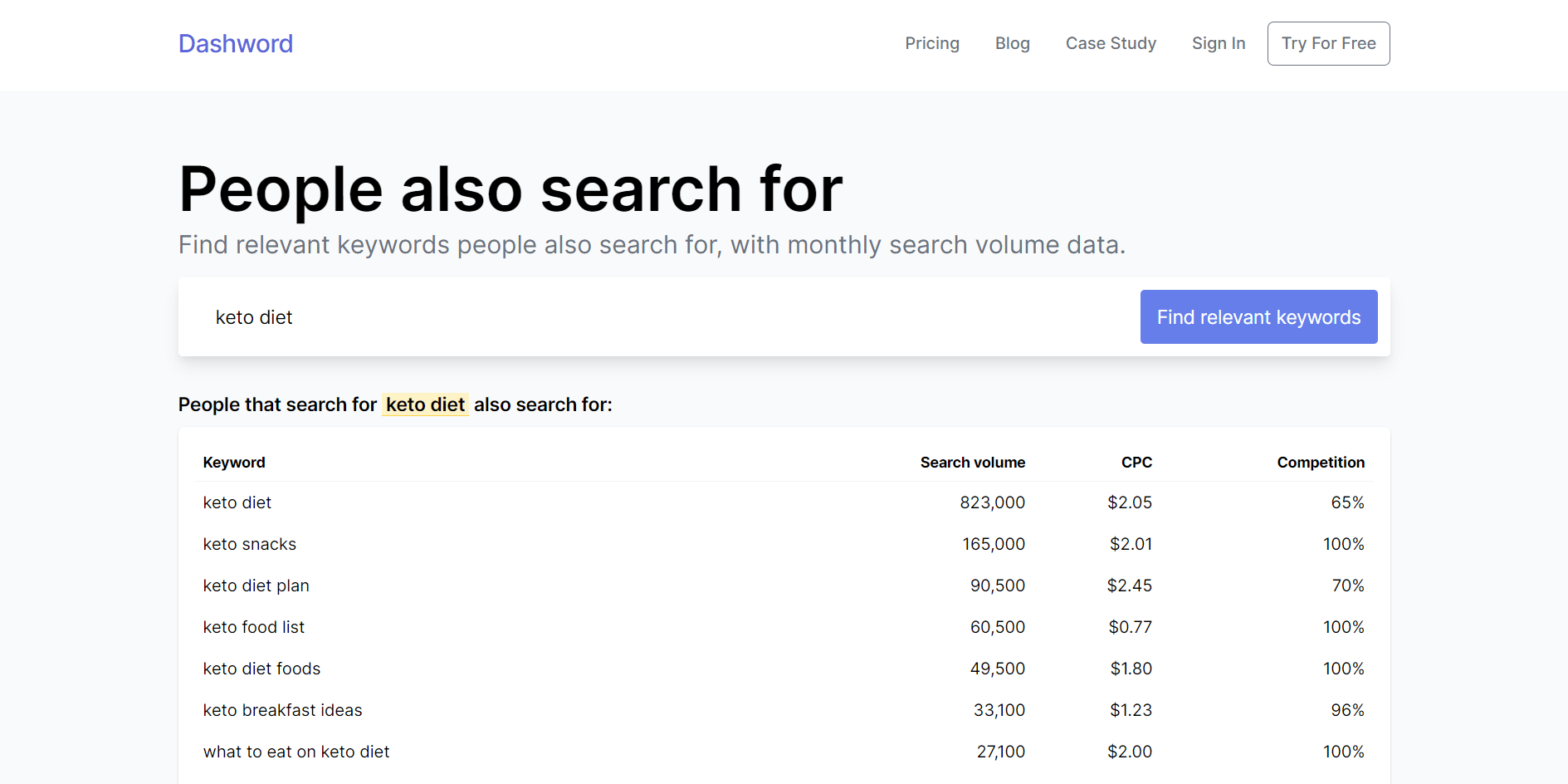 Dashboard PASF finder is a free tool to find all the "People also search for" recommendations by Google for any given keyword.
This is an extremely powerful tool that
automatically scrapes PASF queries
shows the respective search volume
attaches the keyword difficulty
tells you the CPC for each term
In our opinion, this is by far the best tool out there to effortlessly look for PASF keywords without paying a dime. You don't even need to sign up to use it.
Keywords Everywhere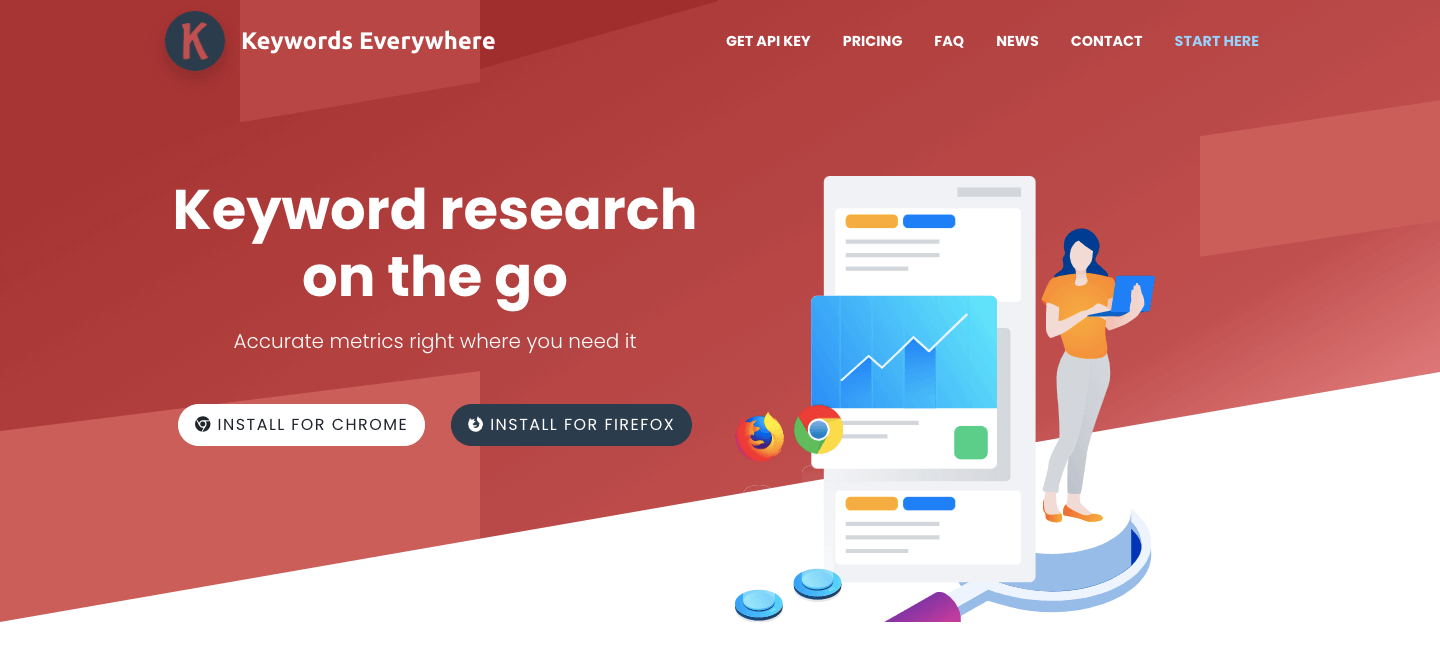 Keywords Everywhere, a browser add-on for Google Chrome and Firefox is another great tool to find PASF keywords.
The tool provides the 'People Also Search For' data along with the monthly search volume, CPC, and competition metrics, across multiple devices. To be able to view the monthly search volume you will need to purchase credits within the tool.
Once you've got the add-on installed, every time you key in a search query either on Google or Bing, you will get two widgets to the right-hand side of the search results page. The top widget will display the related terms whereas the bottom widget will give you the 'People Also Search For' terms for every search result in the SERP.
Extract people also search phrases in Google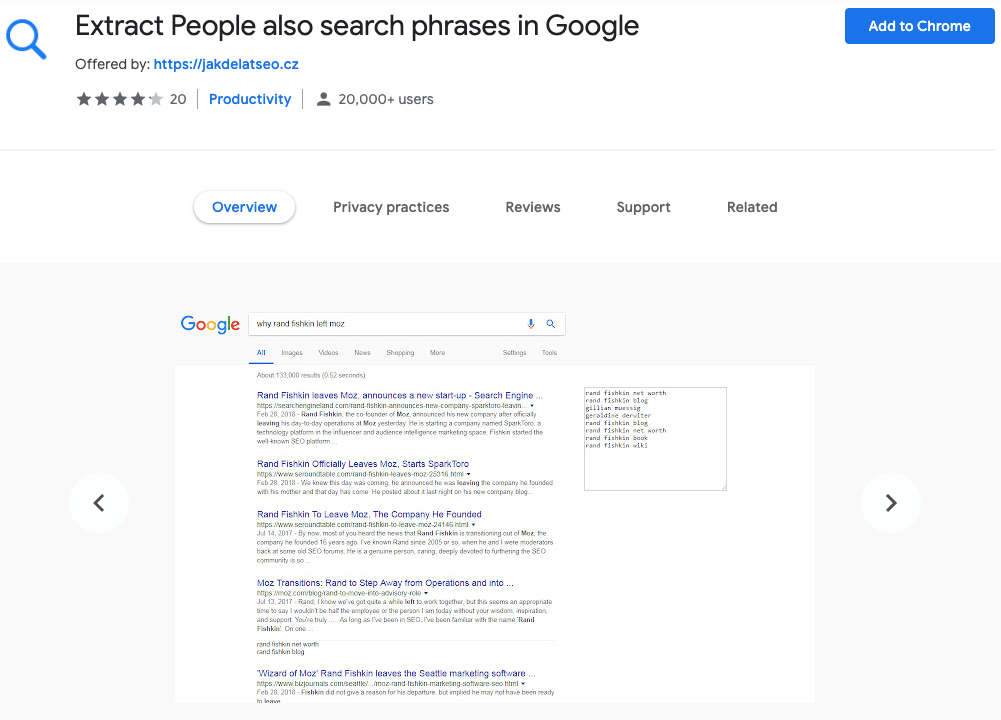 This Chrome extension helps SEO specialists and people invested in optimizing content for SEO and add all the key search terms and relevant keywords to their content.
This is made possible by pulling up all the phrases from the 'People Also Search For' feature and showing it to the top-right corner on every SERP. You can then build content with topically connected keywords and phrases that will in turn help you rank higher in search results.
Optimize your content
Did you find the perfect keyword to target? The next step is to optimize your content for that keyword.
With Dashword, you can forget about spending hours researching for key search terms to include in your posts and web pages. Dashword does it for you in just a click.
With real-time feedback, you get to improve your content with top keywords and questions that directly address the topically related search queries.