How this works
This meta description generator uses machine learning (specifically Open AI's GPT-3) to generate short description ideas for your articles. It's trained specifically for pages with long content and works best for guides,how-tos, listicles, etc.
To use the generator, specify the subject of your article (which could be your title, or simply the topic of your content) along with a few keywords you'd like to see in the meta description and click "Generate Ideas". Note: There is no guarantee that the keywords will be included in the description.
After a few seconds, you'll see meta description ideas for your article. Here's an example of the results we got for Clearscope alternatives.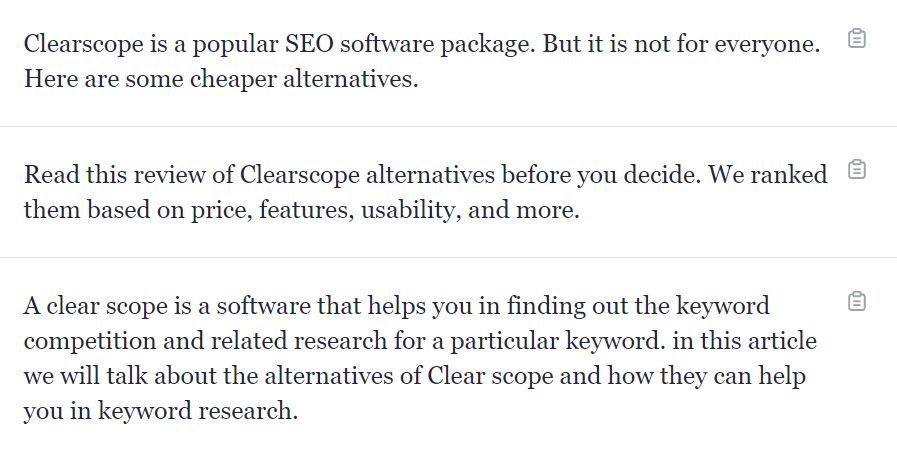 Why are meta descriptions important?
Before 2009, meta descriptions and the keywords they contained were an important ranking factor. Today that is no longer the case, but it is still important to have a good description that resonates with users. Very often, your site's meta description will show up on search engine SERP pages and is one of the first things your potential site visitors will see. A good description will positively affect your click through rate.
How to write good descriptions
Make it easy to read: no complicated long sentences. People will read it when they skim the search results, and they will not take the time to read your convoluted poetry. Great meta descriptions are often very simple.
Include important keywords: it is useful to include keywords you optimize for in your meta description. Google usually highlights these if they match the user's search query.
Make it engaging: just like your title, your meta description should stand out from the competition and convince the user to open your page.
Make it unique: do not copy a description from another site, and make sure you do not have duplicate meta descriptions on your own site.
How long should a meta description be?
If you are optimizing for SERP results (which we think, you should), the recommended length of the meta description should be less than ~160 characters. Anything longer will be truncated by search engines and will barely be seen by users.
Our generator does its best to stick to this length recommendation, but if you feel that some of the suggestions are too long, do not be afraid to cut the fluff!