Clearscope is a great tool that helps marketing teams write better content to increase organic traffic.
But the high price might make you consider other SEO software. I have researched and tried all the cheaper alternatives to Clearscope that are out there.
Dashword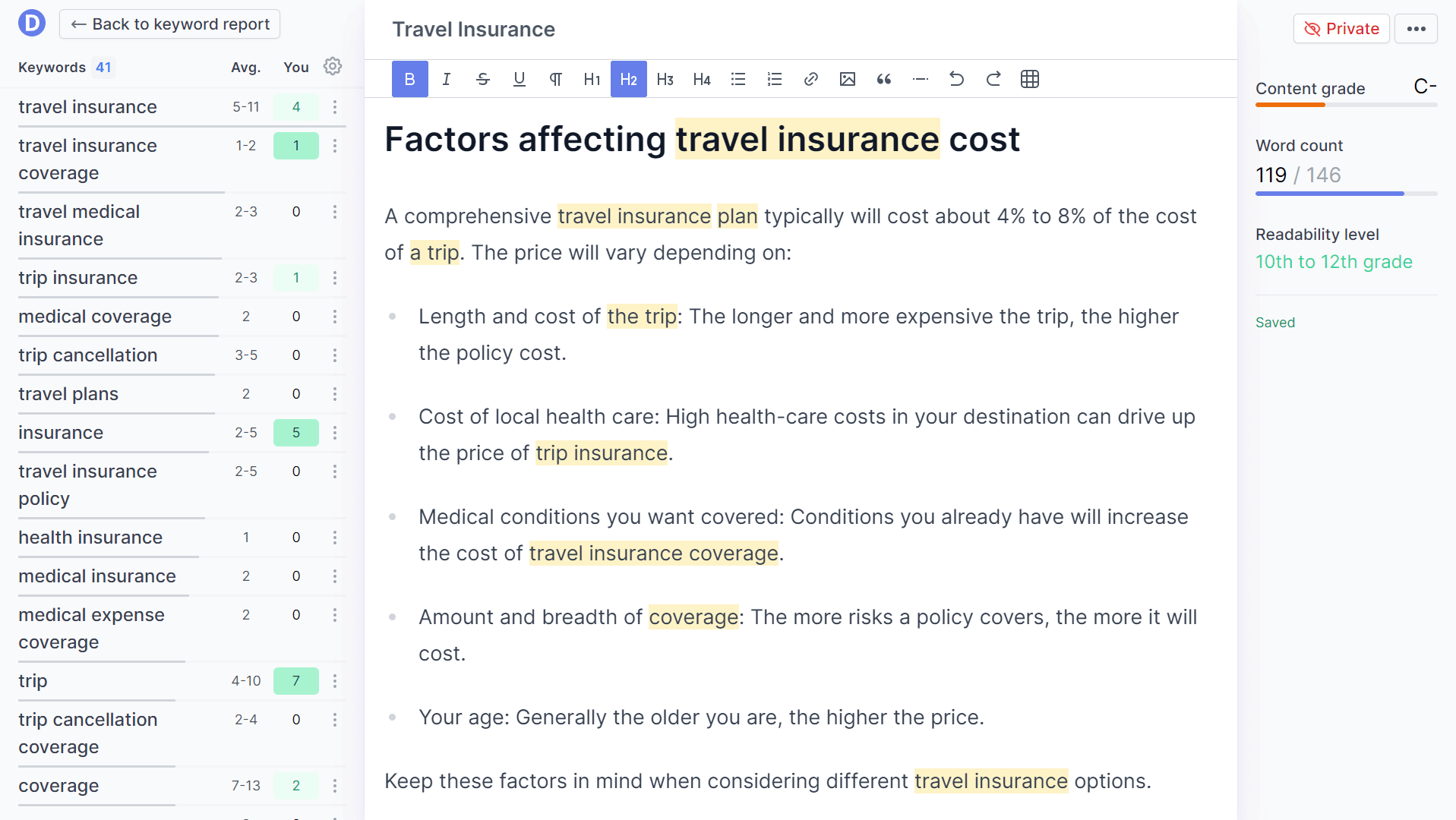 Dashword might be the tool you're looking for. It has the same main features as Clearscope with some nice twists.
100 reports for $250/month
First of all, our Business plan includes 100 reports. When you write an article, you're targeting one main keyword, but your content will also rank for several smaller keywords. With many reports at your disposal you can create separate reports for those smaller keywords. Your content will be more thorough and optimized.
Dashword also has a $39/month plan with 5 reports, and a $99/month plan that comes with 20 reports.
In-depth content research
Similar to Clearscope, Dashword analyzes the top results on Google and uses NLP to extract the most relevant and important terms for your topic. When you run a report for a keyword, you get benchmarks and actionable data around your target keyword based on the top SERP results. This can save you hours of research time.
Real-time feedback as you write
Dashword's main strength is its content optimizer. As soon as you start writing your content, you get real-time feedback that helps you improve what you've written. Content is scanned for LSI keywords, readability is scanned, and we monitor the length of the content as you write.
Made for collaboration
With Dashword's paid plan, you can invite up to 5 team members to work together on your content strategy. If you're working with external writers, it's possible to make individual reports public and share them with guests.
Recap
Keyword quality: 5/5
Ease of use: 5/5
Price per report: low
Free trial: Yes
URL: dashword.com
SimilarContent
If you want to use SimilarContent to research and write your content, you need to hold its hand more than other tools out there. When you launch a report, it doesn't automatically analyze everything for you. Instead, it offers a series of loosely coupled tools that you'll need to use one at a time to gather the data you need.
Reports and the Content Optimizer
When you run a report with SimilarContent, all you get is a huge list of keywords to use in your article. No reporting and insights about the competition, no frequently asked questions, no information about content length... On top of that, the quality of the keywords extracted is not very good. The list is huge and seems to contain every possible keyword.
The feedback you get from the Content Optimizer are: Keyword Coverage, Word Count, Character Count, and TF/IDF Score. Once you have some content written, there is a button to manually check the current score of your content.
Similar headline analysis
It's not entirely clear what the purpose of this tool is, and I didn't find it very useful when writing my article. You can enter your article headline and run a report. SimilarContent will then return some benchmarks on the keywords that appear in your headline, including Relevance Score, Sentiment Score and emotion score. The difference between the latter two is not explained.
Topic Difficulty Checker
Also included in the tool is a "Topic difficulty checker", which you can use to research the keyword you want to optimize your article for. This will give you some useful information about the competition and some benchmarks that aren't always clear on what they mean.
Other functions
The set of other tools (Question Analyzer, Content Rewrite, Topic Ideas Generator) were sometimes a bit buggy and the value they provided was not always clear, but if you are motivated and have the time, you can make it work for you.
Cost
Similar Content pricing starts at $9.90/month and for that price you get 10 difficulty reviews per day and two projects per day. Projects are the equivalent of writing an article on Clearscope: you get a list of keywords to use and feedback on your writing. To get all the competitive insights and actually research your topic, you'll need to use the Difficulty Checks tool separately.
Recap
Keyword quality: 1/5
Ease of use: 1/5
Price per report: low
Free trial: Yes
URL: similarcontent.com
Content Harmony
This tool has been in development since 2018, and its main focus is on workflows that help you with content planning and content briefs so you can better collaborate with your writers. Their Content Grader is still in beta, so keep that in mind if you expect your content optimization tool to give you quality feedback on the content you write. I'm not sure the Clearscope team considers them a real competitor or a threat to their business, but the tool might serve your purpose.
Reports
Content Harmony produces comprehensive reports, but they can be a bit overwhelming. I didn't find all the data actionable, but sifting through it can give you the information you need. Some of the findings are not very precise. For example, there is an attempt to infer keyword result intent, but in the few reports I tried, the results were slightly off. It's also not entirely clear why they make a distinction between keyword reports and search intent reports, when you probably always want the search intent data when doing keyword research for a new article.
The recommended keywords are of good quality. The same goes for question analysis, where many sources are reviewed to get the best questions about the content.
An interesting feature that I haven't seen in other competitors is the Authoritative Sources feature, which is designed to extract sources that are typically referenced when writing about a particular topic. But while the idea seems nice, the results themselves are disappointing and disjointed.
I liked their competitor report, it follows the same trend of throwing a lot of data at you, but some of it is useful in helping you decide if you want to compete for that particular keyword and how you might approach it.
Content Harmony also shows you data on images and videos from the top SERP results. This can be useful depending on the search intent you want to cover. For purely content-heavy keywords and intent, this is probably less useful.
Workflow and Content Briefs
The workflow feature is nice and simple. It doesn't offer functionality like assigning tasks to team members or other features that case management tools typically have, but it gets the job done with some manual orchestration between you and your team.
For a tool that claims that Content Briefs is one of its main features, I found it a bit disappointing. You're essentially given a list of text fields to fill in yourself after you've analyzed the data from the reports. The idea is that you can then pass this on to one of your authors. It works well, but it's very time consuming and offers little assistance in automating this process.
Cost
Pricing for ContentHarmony starts at $99/month. For that, you get 12 Content Briefs, 50 Search Intent Reports, and unlimited projects and users. This is very close to Clearscope's per-report pricing, but a more affordable starter plan.
Recap
Keyword quality: 5/5
Ease of use: 2.5/5
Price per report: high, ~$8.50
Free trial: No
URL: contentharmony.com
PageOptimizer Pro
POP has been around for a while, but it looks like they haven't really improved their software in a long time. It looks a bit like a cheap version of SurferSeo, but with less features.
Limited features on the basic plan
They have two pricing plans categories: Single User Plans and Agency Plans.
Most of the useful features are included in the agency plans, which start at $78/mo. For example, the single user plans do not have NLP.
The keywords specified in the basic plans are therefore of low quality, mostly one-word keywords. Many of the reports we created also had 0 LSI keywords to show.
Messy UI
Their interface is really messy. For example, there's no way to go back to the report page from the content editor; you have to manually update the URL.
Too much data
Their reports are displaying too much data and not necessarily useful stuff. Again, it's really hard to know what to do and understand how things are organized.
Our advice at POP is not to bother using the single user plans, they are cheap yes, but pointless. And if you are willing to spend close to $80+, there are better alternatives.
Recap
Keyword quality: 1/5
Ease of use: 1/5
Price per report: low
Free trial: Yes
URL: pageoptimizer.pro
Copywritely
Copywritely is another low-cost option that gives you low-quality results.
I quickly tried their keyword algorithm and I can say that I am not impressed. It's easy to see what algorithm they use when they divide the keywords into 3 categories: Onegrams, Bigrams, Trigrams. That means they simply count how many occurrences there are in each result.
A report for "best travel insurance" returned the following results...
Their text editor on the other hand is great, but mainly helps you with uniqueness of content, readability and grammar. That doesn't make it an SEO tool.
Copywritely is very, very cheap, but like ZipTopic, you certainly don't need it.
Recap
Keyword quality: 1/5
Ease of use: 3/5
Price per report: low
Free trial: Yes
URL: copywritely.com
Frase
I'm not sure what the main value proposition of Frase is since they seem to have different products. I'll cover 3 of their features that are similar to Clearscope, but I'll skip their auto-generated assistant as it's not relevant to this comparison.
The content brief
The content brief is a report that gives you insights for a target keyword.
Each brief scrapes the 20 first results of Google and analyzes their content to give you a list of topics, the headings of each page, a list of questions related to your keyword and the links that each page includes.
It's what you would run to evaluate the quality of the "already ranking" content.
You can see an example of a brief here: https://app.frase.io/doc/read/e6c2024f32684c379c1df8a8ab7c6a09
The content optimization
To use the content optimization tool, you'll need to specify a keyword and the URL of a piece of content that is already published.
Frase will import your content and analyze it based on the brief it created for the keyword.
Everything is pretty much the same as the content brief, except that for the topics you'll get a progress bar to see the improvements that you can make with the relevant terms.
The content curation
The content curation is the place where you can write content. It's similar to the content optimization tool except that instead of importing an existing content, you can start from scratch.
I like that I can see a summary of the competitors' content and display their whole page without leaving the website.
It's an excellent way to start structuring your content but also very manual.
Unfortunately, you can't share an article with an external writer without giving them access to your account.
Their UI was clean but a bit confusing and redundant. But their free trial is worth a try!
Recap
Keyword quality: 4/5
Ease of use: 3/5
Price per report: low
Free trial: Yes
URL: frase.io
Topic
Topic works in a very similar way as Clearscope, their editor looks maybe a bit too similar.
You can generate reports for your target keywords and access a content brief and a content grader.
The content brief tells you about:
the average word count
the average content grade
the keyword volume
the competitor outline, which is like the structure of each article
a list of related questions to answer
the topics to cover
the SERP result
the websites that your competitors are linking to
If you've tried Clearscope, their text editor is pretty much the same.
Recap
Further reading: The 5 best Use Topic alternatives
Surfer
Surfer helps you optimize your on-page SEO. They analyze SERP results on hundreds of data points, and give you detailed reports, including for example, the number of words in the body, the image alt tags or the number of sponsored links.
But their abundance of data makes the product hard to master.
The screenshot below, for instance, is the first thing you see when you open a report:
I'm sure their tool is useful for experts who know what they're looking for, with a specific framework in place, but for someone trying to get some guidance on how to improve their content, it's a different experience...
You'll have to figure out on your own what's useful from all these pieces of information.
They also use the Google NLP API, but only if you use special NLP credits, which are limited every month.
Recap
Keyword quality: 3/5
Ease of use: 3/5
Price per report: medium
Free trial: No
URL: surferseo.com
Other notable alternatives
I wasn't able to try out the tools listed in this section. Signup wasn't very straightforward so I ended up not trying them at all but I'm still listing them to have a more complete list.
SearchMetrics
Similar to MarketMuse, SearchMetrics seems to target enterprise. There are no prices indicated on their website but you can get a free demo if you fill up their form...
Recap
How to rate Clearscope alternatives
The number one thing to consider when looking at Clearscope competitors is the quality of the suggested keywords. Many tools have popped up recently, but the quality of recommendations is often poor. With some tools, the suggested keywords are very basic, often just single words. It's a waste of time to implement recommendations that are of low quality, so pay attention! It's easy to extract virtually every single word from a list of documents, but only a handful of tools are able to extract the valuable keywords and make meaningful suggestions.
Other things to consider are price per report (which is notoriously high with Clearscope) and ease of use. To help you choose the best alternative, we've explicitly reviewed these three criteria, among others, for every single tool we tried.
Are there any free Clearscope alternatives?
Short answer: no. Long answer: scraping Google search results, parsing all the data, and making optimization recommendations is a resource-intensive process. On top of that, many tools use expensive third-party services for certain features. This explains why there are no competitors that are completely free, especially none that display high-quality recommendations. That being said, some tools, like Dashword, you can try for free without even providing your credit card.
Which is the best Clearscope alternative overall?
Most of the tools listed have their own strengths and weaknesses. In our opinion, there are also a few that are honestly not worth your time. That said, if you value high quality keywords and recommendations, want something that's easy to use, and want to pay significantly less than what Clearscope charges per report, you should definitely give Dashword a try.