Clearscope is a great tool that helps marketing teams write better content to increase their organic traffic.
But its steep price point might make you consider other SEO software. I did the research and tried all the Clearscope alternatives out there to see how they compare.
Dashword
Dashword might be the tool you're looking for (surprise!) It has the same main features as Clearscope with some nice twists.
First of all, there's no limit to the number of reports you can run. When you write an article, you may target one main keyword, but your content will also rank for a lot of smaller keywords. Being able to run reports for all of these keywords will give you a deep understanding of the topics you need to cover.
Dashword's reports will allow you to:
know the quality of the content that your competitors have published
help you identify all the topics your content should include to be as relevant as possible
score your content and help you to improve it
Articles can be shared with external writers and multiple articles can be created for the same keyword report.
The second big benefit is its price. Dashword is only $99/mo, for unlimited access.
It doesn't include a keyword research tool, but with the money you'll save, I'd recommend using it in combination with Ahref. There's just no better keyword research tool on the market.
Cost: $99/mo for unlimited reports
Free trial: Yes, 1 report is free, no credit card required
Url: dashword.com
MarketMuse
MarketMuse's cheapest plan starts at $499/mo. They seem to target enterprise and you might be looking for something else.
Some things are a bit complex, like their 6 different dashboards, depending on what you plan to work on, but the overall experience was pretty good and it feels like a robust content marketing software.
I liked that they crawl your site at the account creation and automatically analyze all your pages, giving you a beautiful dashboard for your website where you can see all your content.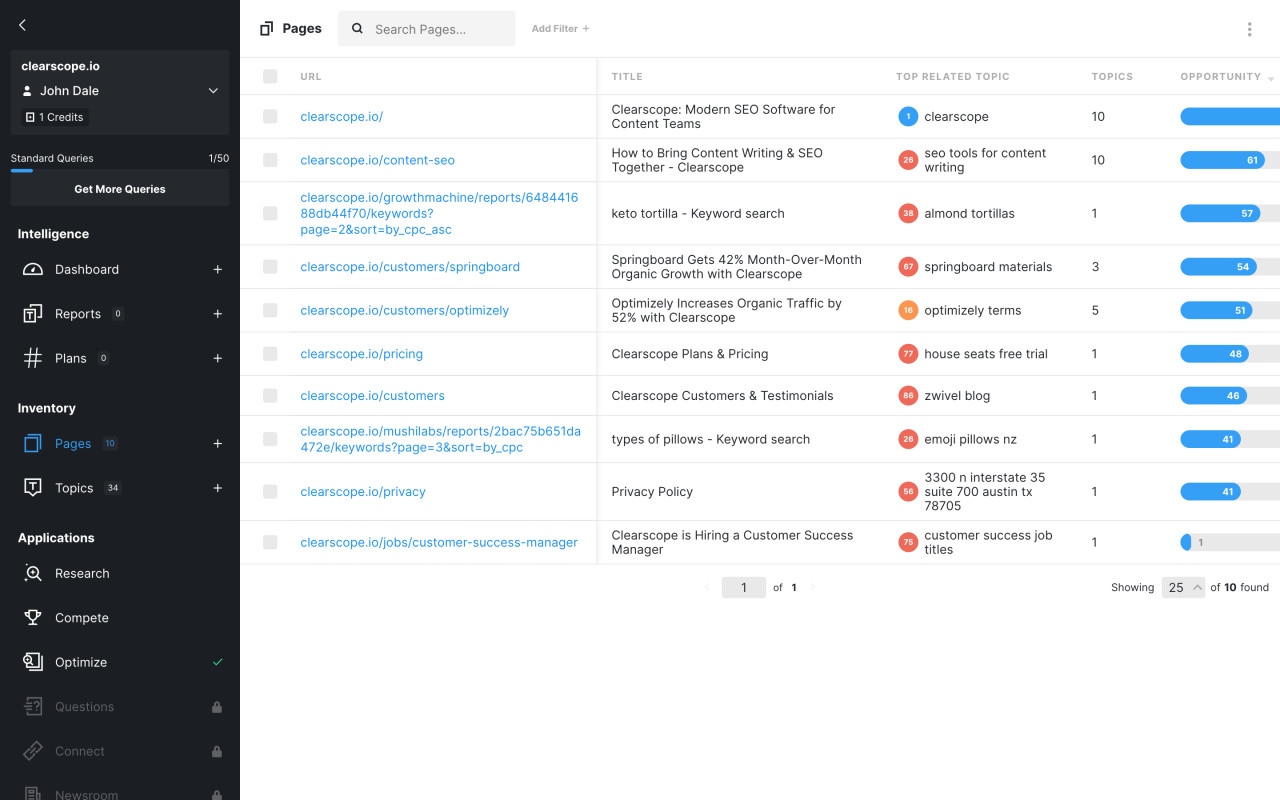 But I felt overwhelmed by all the features and didn't know where to start. MarketMuse might be the ahrefs of content marketing, there is a lot of data and you may need to spend hours trying to figure out how to get the most out of it, but their product is great if money is not a problem.
That being said, they seem to target content teams working on a single massive website rather than SEO agencies working on several sites, so this is something to keep in mind.
Cost: Starts at $499/mo
Free trial? Yes, 3 months with limited reports.
Url: marketmuse.com
Sample report: https://briefs.marketmuse.com/5ed63a90ca487989341b1fbd
If you're interested in seeing how Marketmuse compares to Dashword make sure to read our breakdown.
Frase
I'm not sure what the main value proposition of Frase is since they seem to have different products. I'll cover 3 of their features that are similar to Clearscope, but I'll skip their auto-generated assistant as it's not relevant to this comparison.
The content brief
The content brief is a report that gives you insights for a target keyword.
Each brief scrapes the 20 first results of Google and analyzes their content to give you a list of topics, the headings of each page, a list of questions related to your keyword and the links that each page includes.
It's what you would run to evaluate the quality of the "already ranking" content.
You can see an example of a brief here: https://app.frase.io/doc/read/e6c2024f32684c379c1df8a8ab7c6a09
The content optimization
To use the content optimization tool, you'll need to specify a keyword and the URL of a piece of content that is already published.
Frase will import your content and analyze it based on the brief it created for the keyword.
Everything is pretty much the same as the content brief, except that for the topics you'll get a progress bar to see the improvements that you can make with the relevant terms.
The content curation
The content curation is the place where you can write content. It's similar to the content optimization tool except that instead of importing an existing content, you can start from scratch.
I like that I can see a summary of the competitors' content and display their whole page without leaving the website.
It's an excellent way to start structuring your content but also very manual.
Unfortunately, you can't share an article with an external writer without giving them access to your account.
Their UI was clean but a bit confusing and redundant. But their free trial is worth a try!
Cost: $45/mo for 30 documents and 1 user.
Free trial: Yes, with a limit of 5 reports
Url: frase.io
Topic
Topic works in a very similar way as Clearscope, their editor looks maybe a bit too similar.
You can generate reports for your target keywords and access a content brief and a content grader.
The content brief tells you about:
the average word count
the average content grade
the keyword volume
the competitor outline, which is like the structure of each article
a list of related questions to answer
the topics to cover
the SERP result
the websites that your competitors are linking to
If you've tried Clearscope, their text editor is pretty much the same.
Cost: $200/mo for 50 reports
Free trial: 1st report is free but it's not very clearly indicated on the website
Url: usetopic.com
Sample report: https://app.usetopic.com/briefs/efcb6195/overview
ZipTopic
At first, ZipTopic looks like an unfinished SEO tool, but I decided to try anyway!
Their product is quite simple, you can generate reports where you define your target keyword and either a webpage or the content of your article.
Then ZipTopic will generate a report in a few minutes that looks like the following image.
I wasn't impressed by the quality of their keywords, they only find single words keywords which might be a sign that they use some simple natural language processing model like bags of words and remove the most common words from the list.
Cost: $20/mo (no limit specified)
Free trial: Yes, 7 days, credit card required
Url: ziptopic.com
Sample report: https://www.ziptopic.com/sample-report
Surfer
Surfer helps you optimize your on-page SEO. They analyze SERP results on hundreds of data points, and give you detailed reports, including for example, the number of words in the body, the image alt tags or the number of sponsored links.
But their abundance of data makes the product hard to master.
The screenshot below, for instance, is the first thing you see when you open a report:
I'm sure their tool is useful for experts who know what they're looking for, with a specific framework in place, but for someone trying to get some guidance on how to improve their content, it's a different experience...
You'll have to figure out on your own what's useful from all these pieces of information.
They also use the Google NLP API, but only if you use special NLP credits, which are limited every month.
Cost: From $29 to $650/mo (each plan has its own limits)
Free trial: No
Url: surferseo.com
Other notable alternatives
I wasn't able to try out the tools listed in this section. Signup wasn't very straightforward so I ended up not trying them at all but I'm still listing them to have a more complete list.
Textmetrics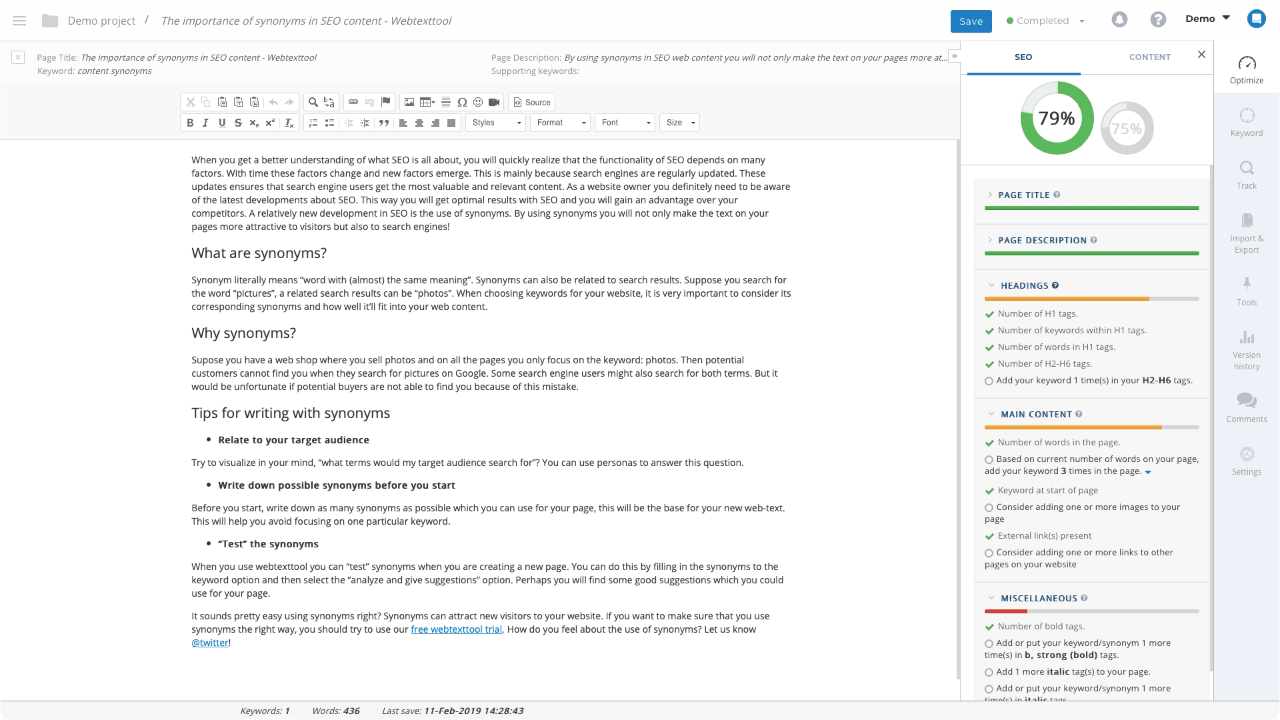 Textmetrics seems like a great tool, but we didn't get a chance to try it. Their pricing is obscure and since they are going after enterprise, I expect them to be even more expensive than Clearscope.
Cost: hidden
Free trial: via demo request
Url: textmetrics.com
SearchMetrics
Similar to MarketMuse, SearchMetrics seems to target enterprise. There are no prices indicated on their website but you can get a free demo if you fill up their form...
Cost: hidden
Free trial: via demo request
Url: searchmetrics.com