Topic has been acquired and the team is sunsetting the application. If you're currently a customer with them, you will lose access in a few months.
Like many others, you might be looking for a replacement. We've listed down some of the best Use Topic alternatives in this post.
Dashword
Dashword is one of the simplest and most powerful solutions available.
It's easy to use, inexpensive, and fast.
Let us take a look at what you can accomplish with Dashword:
Keyword Recommendations
As with Topic, the main benefit is the recommended keywords you get when you specify your target keyword. Dashword analyzes the top 30 Google results and does all the manual work for you in just a few minutes.
Content Optimization
When you write your content in the Dashword editor, you can rank it in real time and see what topic you missed. Detailed articles usually rank better in search results. So if you use all the keyword recommendations, you can be sure that you have not forgotten anything in your article.
Teamwork
Do you have teammates or external writers? Dashword allows you to invite team members to your account and also give guests access to the reports of your choice.
Recap
Keyword quality: 5/5
Ease of use: 5/5
Price per report: low
Free trial: Yes
URL: dashword.com
MarketMuse
MarketMuse is the upmarket Topic alternative. They target big companies with large budgets and it shows: the cheapest plan starts at $499/mo. They seem to target enterprise and you might be looking for something else.
Some things are a bit complex, like their 6 different dashboards, depending on what you plan to work on, but the overall experience was pretty good and it feels like a robust content marketing software.
I liked that they crawl your site at the account creation and automatically analyze all your pages, giving you a beautiful dashboard for your website where you can see all your content.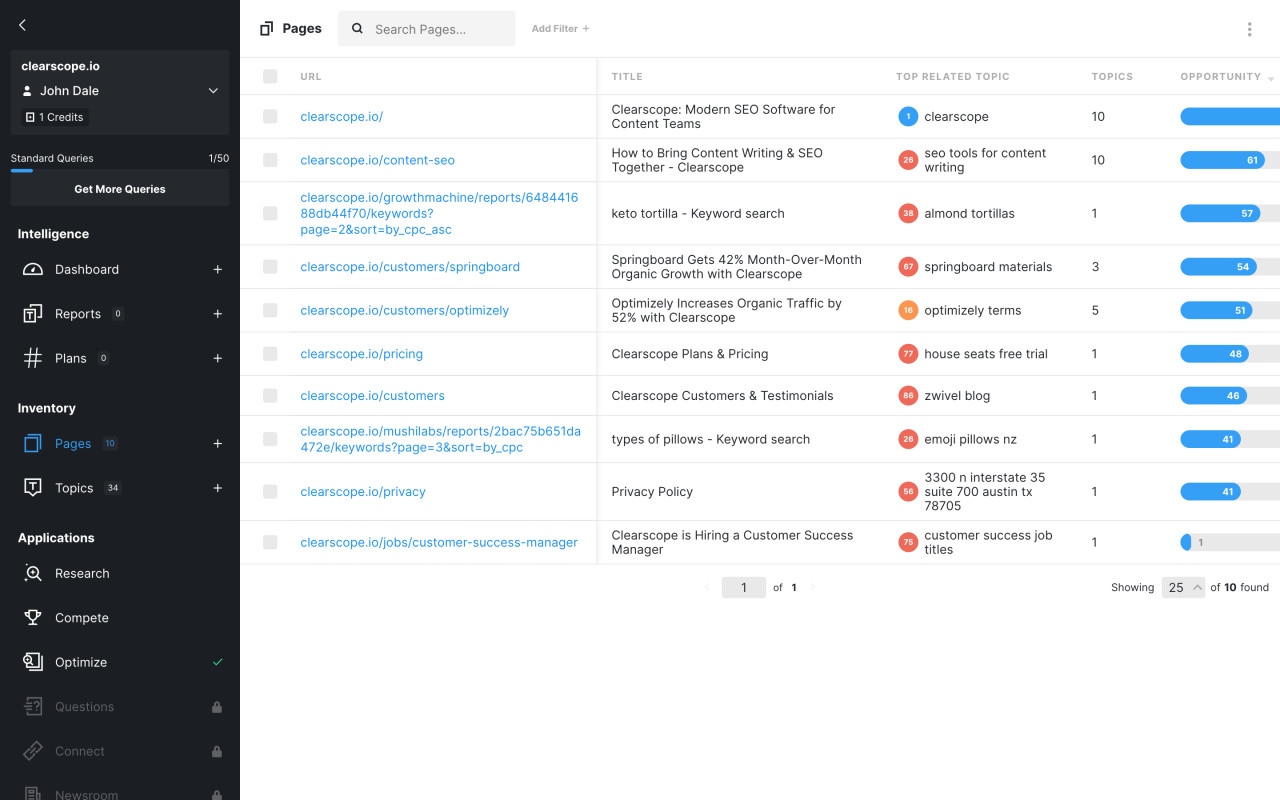 But I felt overwhelmed by all the features and didn't know where to start. MarketMuse might be the ahrefs of content marketing, there is a lot of data and you may need to spend hours trying to figure out how to get the most out of it, but their product is great if money is not a problem.
That being said, they seem to target content teams working on a single massive website rather than SEO agencies working on several sites, so this is something to keep in mind.
Recap
If you're interested in seeing how MarketMuse compares to Dashword make sure to read our breakdown.
Further reading: Top 5 MarketMuse Alternatives (Tried & Ranked)
Textmetrics
It's hard to figure out exactly what Textmetrics does, judging by their website. They don't show pricing on their site and the clients they mention are very large, which suggests they are targeting upscale and large content teams. But they do indeed have a content optimization platform and I was able to try it out. It also took about 3 days for my trial account to be accepted.
Text Optimization
The typical usage flow in Textmetrics is different from most other SEO tools of this type: instead of starting from a report with insights, you start by writing an article. Once you have some content written down, you can specify what the main keyword is that you want to optimize for.
Sadly, specifying the main keyword doesn't do much. Textmetric only gives you some information about keyword volume and how competitive the keyword is. It also shows related terms you might want to target. Once you've determined your main keyword, you need to start a new search for related keywords (or synonyms, as they're called in the Textmetrics platform). From these synonyms, you have to make a selection of 20 keywords. Textmetris does not track your usage for these keywords, so you have to do this part manually.
All of this is not very user friendly and a bit tedious to manage. The quality of the keywords wasn't the best either.
SEO optimization and content analysis
This is one of the few tools out there that not only looks at words and content, but also analyzes how the text is formatted. And while the text optimization features were disappointing, I liked the content insights. When you go to the Optimize tab, you get all sorts of information about how your text is formatted and how you can improve it. For SEO optimization, this includes things like:
Length and keyword count for the page title and description
Number of headings used in your text and the use of keywords in those headings
Number of images and links
Bold and italic tags used
The text analysis insights you get are also quite extensive: Textmetrics gives scores for reading time, reading level, readability score, text credibility, target audience match, and sentiment analysis. There is also information on how you can improve each.
Recap
Textmetrics offers some nice features, but it won't be enough on its own to help you write quality content. While the SEO optimization and content insights are nice, the text optimization features are very limited.
Keyword quality: 3/5
Ease of use: 2/5
Price per report: unknown
Free trial: Yes
URL: textmetrics.com
Semrush
Semrush is in the big leagues alongside MarketMuse. And it's a great tool! They don't just focus on Content Marketing and they're much more than a Topic competitor since they offer so many features. I'll just mention what's relevant to this article, but just so you know, they also offer things like keyword research, on-page SEO audits, competitor analysis, etc...
Topic research
The Topic Research feature helps you identify other topics that your content should cover. It provides you with an extensive list of topics, each with headings and questions.
It also tells you which topics have generated the most engagement to see what's popular on social media.
This doesn't go any further, but it's a good start if you're in the brainstorming phase to help you create your brief.
SEO Content Template
The SEO Content Template is what we would call a brief generator. You enter your keyword(s) and it gives you a list of recommendations to follow. These include: Semantically related words, Backlinks, Readability and Text length.
It's not the best content brief generator I've seen. It's also based on the top ten Google results, so it may be a little limited.
You can then export it to a .docx format or order an article directly from their marketplace.
SEO Writing Assistant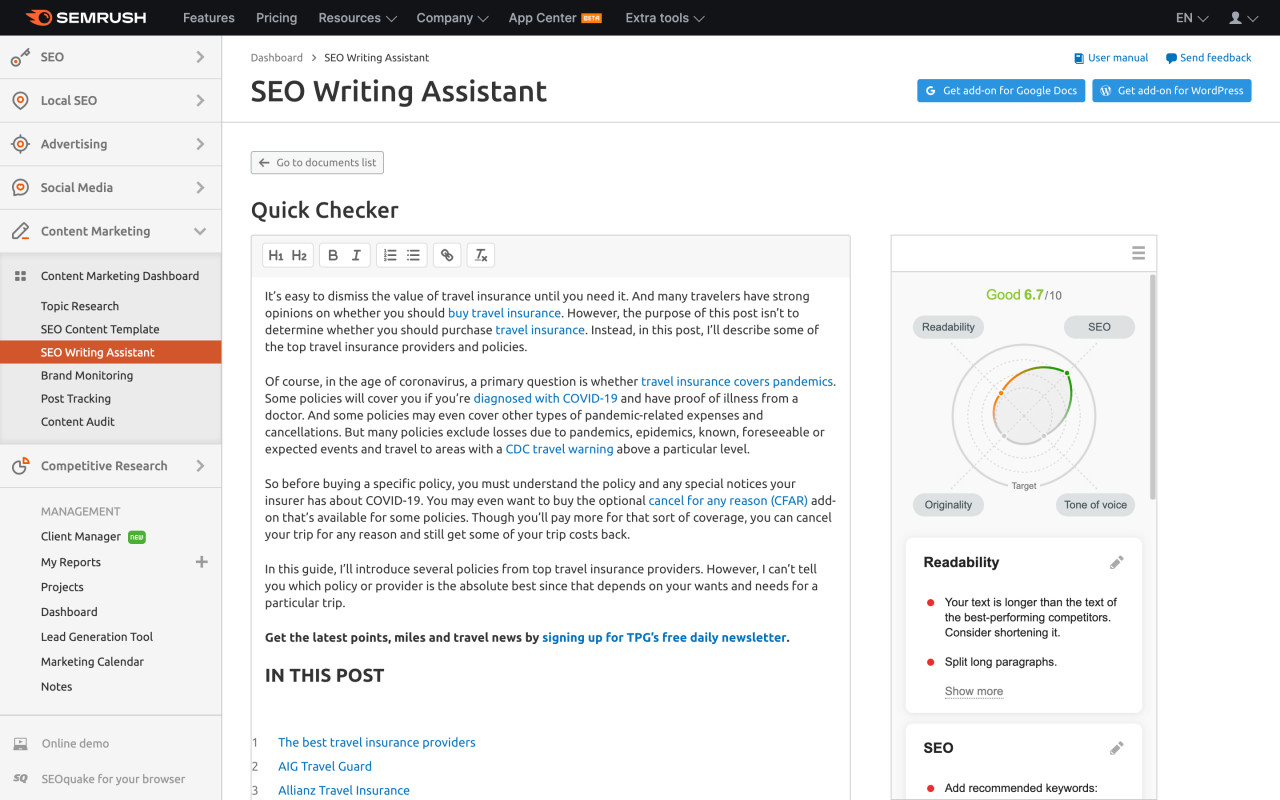 The SEO Writing Assistant is simple but efficient. It's not super cozy and looks like a contact form, but it's a quick way to check if your content is well optimized.
They rate 4 different properties.
Readability
Readability basically tells you how hard your text is to read. I liked the fact that they give the formula they use as well as all the possible values.
SEO
The SEO score is based on your target keywords and how many recommended keywords you use in your content. It also checks your image alt tags and your links to make sure you don't have any on-page SEO issues.
Originality
The Originality section will tell you the level of plagiarism. But you must have a Guru plan ($230/mo).
Tone of Voice
The Tone of Voice is also only available in the Guru plan and helps you maintain a consistent tone across all your articles.
Semrush is a strong option if your budget allows it and, like MarketMuse, you have a high need for content.
Recap
Keyword quality: 5/5
Ease of use: 4/5
Price per report: low
Free trial: Yes
URL: semrush.com
Clearscope
Clearscope is the pioneer in content optimization. They have a solid product that is used by many companies, but it comes at a price.
The company has been slow to add new features and pricing starts at $170/month, but let us take a look at what it has to offer.
Keyword Discovery
Clearscope has its own keyword research tool that helps you find related keywords, with CPC, monthly search volume, and so on. This seems like a gimmick if you are already using a tool like ahrefs, but for some people it might be useful.
Terms map
Recently introduced a feature very similar to what MarketMuse offers that allows you to see a map of keywords/sources.
Content Editor
Clearscope's editor is clear and has all the features you need. As you type in your content, you get feedback on whether or not you should tweak it further.
All in all, Clearscope is a great product if you have the budget for it.
Recap
Keyword quality: 5/5
Ease of use: 5/5
Price per report: high
Free trial: No
URL: clearscope.io