With Google tracking up to 40,000 searches on average per second, search ranking has never been more important.
SEMRush is a popular keyword research tool for battling out search algorithms. The steep pricing, however, does not sit well with some.
The good news is that a few alternatives in the market are just as competent as SEMRush.
What is SEMRush all about?
Undoubtedly one of the best tools out there for brainstorming new keywords, SEMRush has almost everything that a marketer looks for!
Competitor analysis, amazing site audit checklists, and on-demand analytics reports are just some of the impressive line-up of features that make it a class apart.
With over 40+ different features built into one intelligent all-in-one SEO toolkit - SEMRush helps you ace the SEO and digital marketing game without having to switch between multiple platforms.
From SEO professionals, digital marketers, social media managers, content marketers to website auditors, SEMRush has something for the whole tribe of performance-driven marketers. Beginners are also sorted with a great line-up of resources that are available on the platform.
Let's size up this keyword research tool with a list of pros and cons.
Pros:
One of the most comprehensive platforms for entrepreneurs and marketers to manage their website
In-depth competitor analysis features along with the ability to compare your position against competitors on select keywords
The topic research tool is extremely useful in generating content ideas
User-friendly UI that lets you easily navigate between tools
Cons:
Only one user is allowed across all the plans. A minimum of $45 will have to be paid for every new user in the basic plan
This domain analysis and keyword planner tool requires some bit of technical knowledge and it can be complicated for beginners owing to the plethora of available features
The high pricing doesn't go easy on the wallet, especially for businesses that are looking for a more elementary toolset
5 Trusted alternatives to SEMRush for SEO and content optimization
Though this keyword magic tool is a fan favorite and one of the best SEO tools out there, SEMRush is not for everyone. SEMRush has a high price tag and has one too many solutions to offer - this might get overwhelming for freelancers or beginners looking for a basic solution.
If you're looking for the best SEMRush alternatives, you'll be surprised to see the range of available options. We've been scouting for the best platforms and we've rounded up a comprehensive list of alternatives that includes a free tool as well - yes, you can get started for free on Dashword!
We're making this incredibly easy for you - we're outlining the pros and cons and letting you compare the features to make the right call.
1. Dashword
If you're looking for the best alternative that lets you write high-quality content and grow your organic traffic, then Dashword is a clear winner!
From helping you tap into trending topics to getting quality feedback on how your content ranks when pitted against the competition, Dashword gives you actionable insights to churn out content that ranks high.
The highlight of the tool has to be the pricing. Apart from being able to get started for free (no credit card details required either), Dashword's pricing has to be the most nominal compared to the other SEMRush alternatives. You can get started with the basic plan called 'Hobby' for just $29 a month.
Dashword also works as a great alternative to Google Keyword Planner - every time you generate a report for a specific keyword, Dashword scrapes the top 30 Google results from the search engine for that keyword.
It then analyzes the content for each result, gives it a content score, and shares keyword suggestions based on search volume and relevancy.
Pros:
You can generate unlimited reports on the professional plan - this way you can get a detailed analysis of smaller target keywords
A great tool for collaboration - you can invite up to 5 team members and share reports publicly with freelance writers
On Dashword's content editor you can optimize content real-time, as you write Dashword offers quick customer support, making it a great tool even for beginners
Cons:
Only supports content written in English
2. Ahrefs
First up on the list is Ahrefs, an SEO intelligence tool that is known for its great feature set.
Though equipped with a similar line-up of features compared to SEMrush, the social media marketing, and paid ads features, Ahrefs stands out when it comes to having a neat user interface.
Ahrefs is a keyword research tool that crawls over 54 billion web pages every 15 minutes - this means it has a massive directory of live backlinks, enabling you to tap into the strongest backlink opportunity in your industry.
The platform undergoes frequent updates and is trusted for being a robust tool offering a mammoth of deep data analytics.
When it comes to pricing, Ahrefs starts at a comparatively lesser price of $99 for its basic plan called Lite.
Pros:
As a keyword research tool, Ahrefs is considered to be one of the best SEO tools that offer you detailed keyword suggestions to outrank your competitors
It is also known for helping marketers to rank in Google's search assist features
Their SEO toolbar helps provide useful data while conducting content research
Its huge backlinks database allows you to keep an eye on competitors' links and any new links that are published in your niche
Cons:
Though the pricing is lesser when compared to SEMRush, it is slightly on the higher side compared to other alternatives in this list
The related terms shared by the tool are at times too broad
While it is user-friendly for individual users, it's not a great collaboration tool for teams
3. Majestic
Majestic takes the cake for being a tool that specializes in links. If link building is a department where you're lagging, then Majestic can be among the best SEMRush alternatives for your business.
Majestic offers you link intelligence data - like 'Trust Flow' and 'Citation Flow'. Trust Flow represents the quality of links that direct to a particular web page whereas Citation Flow represents the number of links that are directed to a website regardless of whether they are good or bad quality.
While a lot of SEO tools like SEO PowerSuite and Moz Pro come packed with backlink data, very few provide an in-depth insight into link data including the evolution of backlinks over time, like Majestic. The basic plan for this tool starts as low as $39.99 per month.
Pros:
If you're looking for a unique URL crawl, the database that majestic offers for link building and backlink analysis is incomparable
Majestic provides the ultimate report for backlink research and domain analysis
You can easily identify link opportunities looking at competitor websites
Cons:
A basic feature like the historic link profile is on a higher price tier
The UI has quite an old school look compared to other SEMRush alternatives
4. Mangools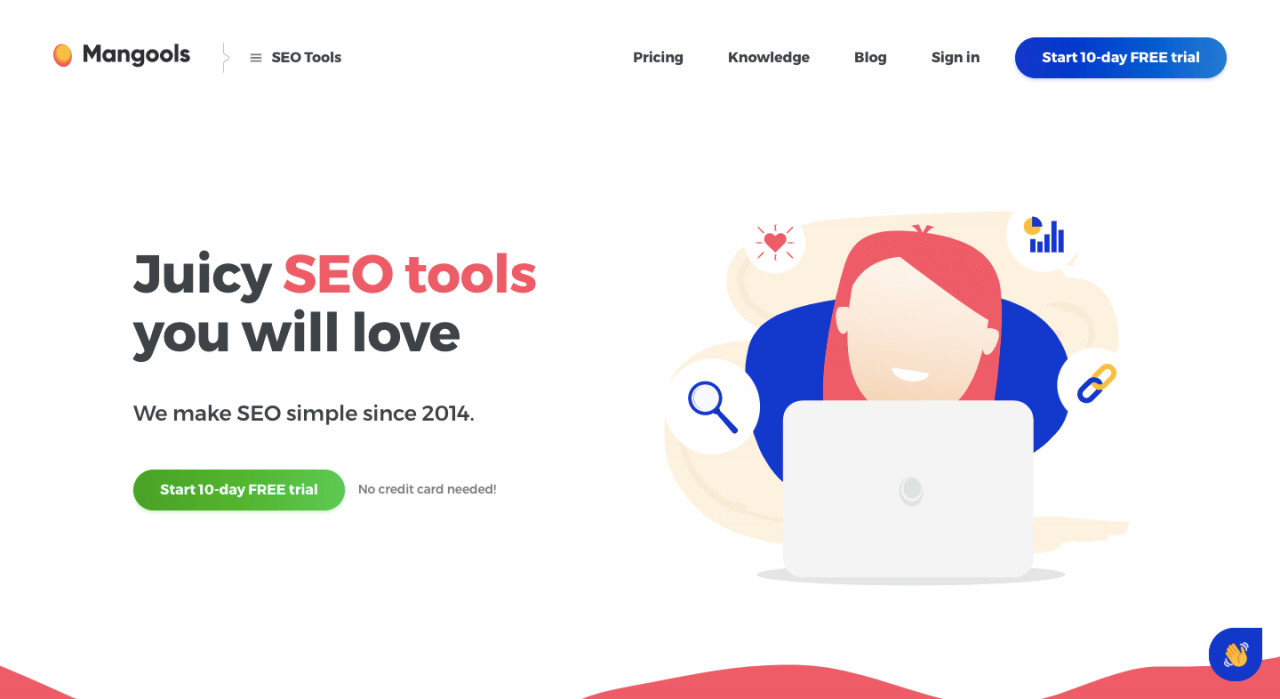 Mangools is considered to be a great tool for beginners.
With a smooth user interface, this tool is known to be a great rank tracker and provides rich insights on keyword research, website, and search engine results page analysis.
You also get to do a thorough competitor analysis on Mangools where you get to know all about your competitors' website authority and get details on popular metrics like link profile data. Mangools' basic plan starts at $29.
Pros:
An extremely easy-to-use tool with an amazing interface
Mangools KWFinder is a great alternative to Google Keyword Planner
Using the rank tracker, you can start using all your target keywords without having to add them one by one
Cons:
The tool does not let you share your dashboard with external clients
Keyword search volumes are less accurate than most other tools in this list
5. Serpstat
Serpstat may not be among the most advanced SEMRush alternatives out there but it has a great user experience to offer. The UI is neatly laid out making it easy for even beginners to find their way around the platform.
Though not the best alternative in the list, Serpstat offers a decent rank tracker along with site audit capabilities and competitor research tools.
Serpstat analyzes keyword trends and pulls up keyword suggestions at no additional cost. The tool also offers a content marketing suite that provides useful tips on building rich content.
Serpstat offers their basic plan called 'Lite' at $55 per month.
Pros:
Serpstat offers a Google Chrome extension that lets you perform on-page SEO analysis easily
The tool offers generous rank tracking limits
Serpstat has a multi-user account enabling easy collaboration
Cons:
Their backlink analysis is weak compared to their competitors
The pricing plans are limiting when it comes to monthly data allotments
The tool does not offer detailed competitor research especially when it comes to traffic analysis of competitor websites
Parting thoughts
While there are a lot of options out there, pin down the needs of your business and go with a tool that suits you best.
SEMRush is undeniably a tool that is loved by many in the industry. But for a fraction of the cost, Dashword offers a great content optimization tool that will help you drive in organic traffic and get your content to rank higher up in the search results.