Today's freelance content writers and marketers, as well as content agencies and entrepreneurs, are well aware of the benefits they can reap from search engine optimization (SEO) and content optimization software solutions.
For instance, to rank high in SERPs, your content must have relevant keywords that reflect the user's intent (i.e., search intent), SEO-optimized headlines, meta descriptions and title tags, good readability, links, and SEO-optimized images.
Two popular content optimization tools that get overwhelmingly positive reviews from satisfied customers are MarketMuse and Frase.
Today, we'll discuss the differences between the two so that you can make an informed decision before investing your hard-earned money.
TLDR;
Overall, MarketMuse offers a more comprehensive set of features than Frase.
Both platforms have a user-friendly interface, content outline (content planner), and content brief features, but MarketMuse also gives you first drafts on your topic of choice.
However, MarketMuse's plans require additional credits for these features. This makes MarketMuse more expensive and, thus, more suitable for larger enterprises.
If you are part of a small or medium business or a freelancer with budget limitations, then Frase wins hands down as it offers better value for money.
Before diving into describing and comparing the platforms in greater detail, let's have an overview of their most prominent features side by side:
| | MarketMuse | Frase |
| --- | --- | --- |
| Competitor analysis | Yes | Yes |
| Competitive content analysis | Yes | Yes |
| Content score/ Topic score | Yes | Yes |
| Content inventory | Yes | Yes |
| Topic clusters | Yes | Yes |
| Content planning | Yes | Yes |
| Keyword research | Yes | Yes |
| Personalized difficulty score for relevant keywords | Yes | No |
| Optimize | Yes | Yes |
| SERP analyzer | Yes | Yes |
| Content editor | Yes | Yes |
| Content brief/ content outline | Yes | Yes |
| First draft | Yes | Yes |
| Natural language processing (NLP) of content | English and Spanish | English, French, Spanish, German, Danish, Dutch, Portuguese, Italian, Norwegian, Finnish, Swedish, Romanian, Polish, Russian, Hindi, Indonesian, Malay, Thai, Japanese and Korean |
| Integrations for Google Docs and WordPress | Yes | Yes |
What is MarketMuse?
MarketMuse is a content optimization software designed to give writers and content creators an advantage over their competitors in terms of SEO performance.
The platform provides writers with advanced SEO features such as domain analysis and AI-generated insights, including topic relevance score (TRS), internal cross-linking opportunities, competitive analysis, keyword recommendations, and data export.
With MarketMuse's automated workflow capabilities, writers can save time by automating keyword recommendations with charts, graphs, and AI-driven insights directly into their writing experience.
MarketMuse features
MarketMuse's AI-powered platform is designed to help content writers and marketers create content that is up-to-date, relevant, and SEO-optimized for their target audiences. It consists of three main components: Content Briefs, Assisted Keyword Research and Analysis, and Content Planning and Optimization.
MarketMuse's keyword research tool uses advanced topic modeling to give you a list of closely related topics (content/topic clusters), which is a huge time-saver and helps you organize your keywords and content ideas into content that is easily crawlable by search engines. Frase features topic clusters as well.
You can use both tools to automate the process of identifying keyword/topic gaps and to get question ideas. This is a quick way to inform your content strategy by connecting questions, keywords, and topics in thematic clusters that provide high-quality target keyword choices that must not be overlooked.
If you give MarketMuse a topic you intend to write about, it can clue you in on its performance potential. It uses your and your competitors' published content to give you a personalized difficulty score.
The personalized difficulty score, a custom score based on the authority of your existing content on a specific theme, is MarketMuse's advantage over Frase. This score tells you which opportunities would be the easiest for you to pursue. The lower your authority, the higher your difficulty, and vice versa.
What is Frase?
Frase io is a content optimization and content creation platform that helps content teams and businesses create web pages optimized for search engines by analyzing what keywords or topics they should use in their content.
It also focuses on optimizing the structure of web pages by evaluating page titles, headlines, meta descriptions, and subheadings - all important elements that can sometimes be overlooked. Nevertheless, they make a huge difference when it comes to SEO performance.
Additionally, Frase offers automated scoring systems to determine how well each page performs against certain criteria - such as readability scores, word count scores, and other specific SEO parameters - helping users ensure that their pages follow the best practices to get the most out of their optimization efforts.
Frase features
Frase io offers AI-assisted content briefs, AI-generated content, content optimization features, and content analytics. It also has a feature that allows users to view visit trends on each post or page they create, along with insights that benchmark performance against rival sites using relevant keywords on a certain topic for optimization purposes. It additionally offers real-time data analyzing capabilities through integration with Google Data Studio, monitoring backlinks from various sources, etc.
Using machine learning algorithms, Frase offers advanced insights into how users engage with each page across multiple formats such as text, audio, video, etc. Then, it provides actionable insights, which can be used to improve your ranking in search results.
Let's see what the pros and cons of each platform are when it comes to SEO and optimized content generation.
MarketMuse vs Frase for content strategy and planning
When comparing MarketMuse and Frase, we can see that both tools aim at helping marketers develop a comprehensive digital content strategy that will yield the best results when it comes down to ranking on search engine result pages (SERPs) and being easily discovered by potential customers who pose their question in a search query.
However, when it comes to content strategy and planning, the key difference between MarketMuse and Frase is that MarketMuse offers more options, such as assisted keyword research and analysis, providing you with related keywords and relevant topics. MarketMuse gives you broader recommendations, such as analytics data and insights addressing gaps in keyword research or identifying new opportunities for upcoming projects.
Frase, on the other hand, focuses solely on relevant and related topics suggestions and merely offers you insights into how users already interact with your website across various formats, such as blog posts.
MarketMuse vs Frase for content research
As we mentioned earlier, both MarketMuse and Frase are great keyword research tools that provide you not only with relevant keywords but also with topic clusters and frequently asked questions.
Moreover, both tools use AI to analyze web content relevant to your topic of choice and automatically identify keyword and topic gaps. This gives you real-time insights into your and competitors' websites. In such a way, both platforms provide data-driven recommendations that can help you ensure your content ideas cover all bases.
MarketMuse understands the context behind words to assess the accuracy, novelty, and relevance of text relative to a given topic or keyword. It then provides a content score for each piece you're researching.
MarketMuse's edge over Frase is that it feeds on your and competitors' published content, gauges its authority, and provides you with a personalized difficulty score. This, in turn, lets you choose relevant topics that would be the easiest to pursue and rank well in search results.
Frase also provides an overall score that indicates whether you are missing relevant keywords or you have used too many of them (keyword stuffing), which may lead to penalties from search engines like Google.
Frase is relatively new on the market, but its popularity is rising. It is a serious competitor to MarketMuse, even though this powerful tool has been around for about ten years and is used by top brands like Adobe, Microsoft, and Dell.
MarketMuse vs Frase for content optimization
Both platforms have helped SEO experts tremendously by taking content optimization to a new level. Still, they approach this aspect in different ways. MarketMuse's AI-driven technology makes it great for conducting thorough research and identifying opportunities, while Frase's toolkit specializes more in helping optimize existing pieces that are already performing well but need fine-tuning.
At first glance, both solutions offer similar features like keyword research tools, AI-driven content optimization features (content planner and content editor), competitor tracking, and reporting capabilities. However, some distinct differences between them set them apart from one another:
MarketMuse utilizes artificial intelligence (AI) and natural language processing technology to provide insights into how existing content is performing in comparison to that of its competitors.
Frase's platform focuses mainly on content analysis and optimization using proprietary algorithms to identify what types of changes should be made for your content to perform better organically. It uses natural language processing (NLP), semantic analysis, entity extraction, sentiment analysis, and related content recommendations. Frase also lets you know whether your content's wording is similar to published pieces, helping you avoid plagiarism.
Both Frase and MarketMuse suggest headings and target keywords based on current trends in the industry, as well as propose synonyms for better readability.
The choice boils down to whichever best fits your individual needs or budget constraints, as each offers additional features that can expand upon their core competencies depending on what you want.
MarketMuse vs Frase for content generation
Natural language processing (NLP) is used to understand written text, while natural language generation (NLG) is used to produce natural or human-like content for web pages and blogs by combining data analysis with multiple sources of knowledge.
Thanks to these technologies MarketMuse and Frase are two highly regarded solutions for content generation, but which offers more value?
When comparing MarketMuse to Frase for content understanding and generation MarketMuse's advantage over Frase is its ability to analyze entire websites or individual pages, pull content from multiple sources, and use machine learning algorithms for keyword suggestion purposes.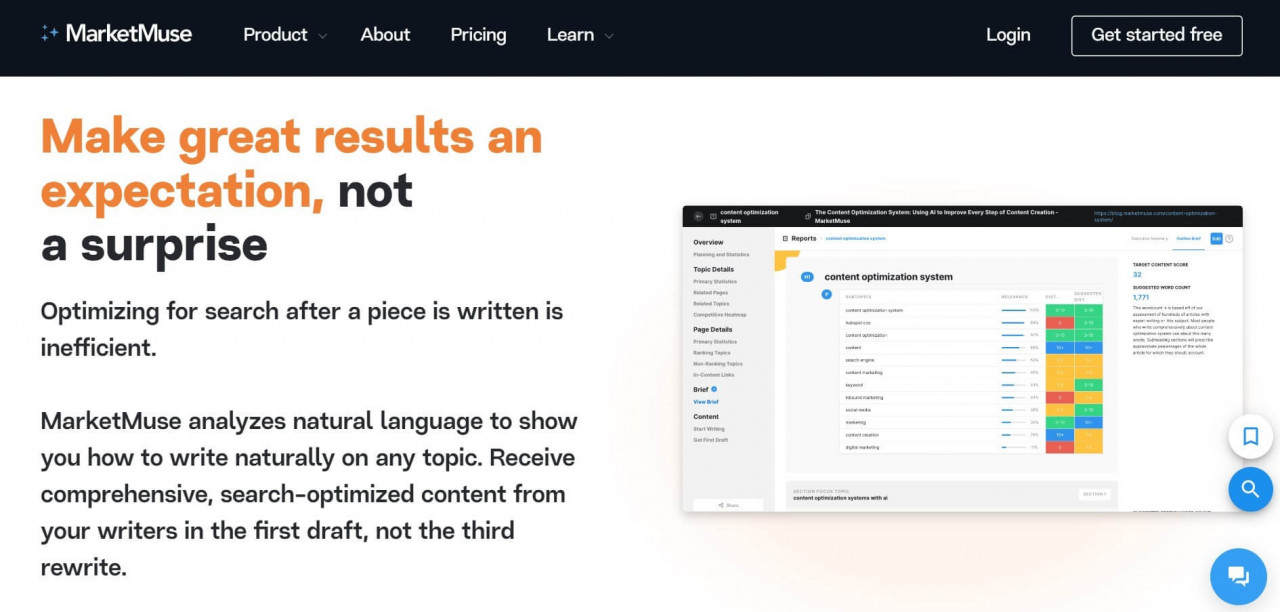 Frase, on the other hand, has an easier setup process that requires no coding experience whatsoever. Its customizable parameters allow users much control when crafting their written output.
MarketMuse pulls data from various sources, such as Google and Wikipedia, to generate rich summaries that synthesize information about a given topic. The generated summary can then be used in blog posts and other forms of content, which helps create an easy-to-understand narrative characterized by content harmony.
Frase io's content generation solution generates content based on questions asked by users. It accesses vast databases filled with human-written articles that contain key terms, phrases, and ideas related to the user's search query. These provide context for the generated content, ensuring it contains accurate information relevant to the inquiry.
Additionally, it allows users to customize parameters such as tone and reading level to produce an article that caters specifically to their target audience.
When it comes to language support, MarketMuse covers English and Spanish only, while Frase offers support in 20 languages.
MarketMuse vs Frase for content briefs
It can be hard to decide which platform is best if you want detailed and reliable automatic content generation features, as both MarketMuse and Frase offer automated content briefs allowing users to input topic ideas and receive an overview of key topics and relevant keywords. This is made possible by their extensive libraries of topics and concepts that can be your point of departure toward more comprehensive briefs.
Furthermore, both platforms help streamline keyword analysis by providing suggestions for related terms and phrases based on user inputs - with additional filtering options enabling users to narrow their search further.
Both MarketMuse and Frase also provide tools for competitive analysis, enabling writers to keep ahead of the competition with insights into other websites' content covering similar subjects or topics.
However, MarketMuse goes beyond just offering keyword suggestions - apart from giving detailed information about each topic covered in the briefs, as well as structural advice on how best to present this information to maximize SEO value for search engines, MarketMuse wields power over Frase with its first draft feature. This is a powerful tool that helps content writers swiftly create high-quality content that is optimized for search engine rankings. It enables users to take their ideas and turn them into perfect articles with no fuss: just enter your topic in the search bar, get a list of suggested topics to dive into, pull the relevant data from databases, and let the AI-driven editor do the rest!
With its cutting-edge topic optimization capabilities and AI recommendations for extra content ideas organized by relevance, MarketMuse's first draft gives users the power to produce original content quickly and efficiently without sacrificing quality.
Frase also offers a content brief which is an outline for your content when you need to write blog posts, press releases, articles, etc. Frase's content briefs allow you to streamline your content creation process by selecting features such as content guidelines and goals, related questions that users pose in search queries, top 20 topics, and external hyperlinks.
Frase's advantage over MarketMuse is that with the team plan being much cheaper than MarketMuse's premium plan, you can generate an unlimited number of briefs. With MarketMuse, you need to pay extra credits ($25 each) every time you want to generate a content brief or a first draft. One first draft costs three credits ($75).
MarketMuse vs Frase pricing plans
When it comes to price, Frase wins hands down. Its team plan, being the most comprehensive one among Frase io's offers, costs only $114.99 per month ($97.75 with a yearly subscription), and it offers almost everything that MarketMuse's standard and premium plans do. Read on for a more detailed overview of the different pricing plans these two platforms market.
MarketMuse Pricing Plans
MarketMuse offers three plans: free, standard, and premium.
The free plan has no time limit and is meant for one user only. It offers ten projects and ten queries per month but has limited application data output. Starting with the free plan is a good way for you to get familiar with this SEO tool and see if you would like to upgrade to a more comprehensive plan.
The standard plan costs $600 per month or $6,000 per year and is also intended for one user, with the option to add more for $99 per month per user. This plan has a monthly offer of 100 queries, unlimited projects, data export, and full application data output.
The premium plan is scalable, starting from $12,000 per year. It offers all that the previous two do, as well as: team access, unlimited queries, on-demand domain(s) content audit, domain analysis for any number of pages within the domain(s), managed topics tracking, and unlimited content briefs. It also entails a dedicated account management team and platform and workflow training. To summarize, the premium plan offers everything your content team might need to produce excellent SEO content.
Frase Pricing Plans
Frase, too, offers three plans: solo, basic, and team.
The solo plan costs $14.99 per month ($12.66 per month if paid annually). As the name suggests, it is meant for one user who can write and optimize up to four articles and generate up to 4,000 AI-generated words per month. This makes it ideal for projects that require no more than an article per week.
The basic plan costs $44.99 per month ($38.25 per month if paid annually). This plan, too, has been designed for one user who can write and optimize up to 30 articles and generate up to 4,000 AI-generated words per month. Organizations with regular content schedules and SEO goals can benefit from the basic plan.
The team plan is $114.99 per month ($97.75 per month if paid annually). This plan targets teams that need more flexibility and collaboration. The initial subscription offers three user seats, but additional users can join for only $25 per month per user. The package allows you to write and optimize an unlimited number of articles and generate up to 4,000 AI-generated words per month.
If you are interested in saving more time by taking full advantage of Frase's AI Write feature, you can get the Pro Add-On for $35 per month. This works with any of the above plans, and it gives you unlimited AI-generated words, as well as other premium features.
On top of this, Frase offers support tools ranging from simple one-time fixes to personalized coaching sessions with a dedicated account manager for higher price tags exceeding $500 per session (depending on the duration).
Bottom Line
Before deciding which tool is right for you, consider both pricing plans carefully and decide what type of features are most important for meeting your content creation needs.
Both are valuable tools that can help optimize your content — but Frase may be better suited for small or medium businesses or freelancers — while MarketMuse may be better for larger enterprises with bigger content teams. The best way to ensure you make the right choice is by taking into consideration your budget restrictions as well as the specific types of services each platform offers before committing.
Conclusion
By now, it is clear that both MarketMuse and Frase have their strengths and weaknesses, so which one is a better fit ultimately depends on your budget and the type of work you plan on doing.
Overall, MarketMuse offers a more comprehensive set of features than Frase. It pulls content not only from the Top 20 or 30 Google search results but from thousands of texts on a given subject. This makes it more suitable for various tasks, from research to website diagnosis.
Frase, on the other hand, pulls content from Google's Top 20 results and focuses more specifically on helping users optimize individual pages in more detail, such as with the related topics feature that ensures more comprehensive content coverage.
Both platforms offer valuable integrations such as Google Docs and WordPress. Additionally, both have a user-friendly interface, a content outline (content planner), and content brief features, but MarketMuse also gives you first drafts on your topic of choice.
However, MarketMuse's plans require additional credits for these features (one credit for content generation and two for content creation; at $25 per credit), which puts this admittedly excellent SEO tool on the expensive end of the price spectrum. This also makes MarketMuse more suitable for larger enterprises.
If you are part of a small or medium business or a freelancer with budget limitations, then Frase wins hands down as it offers better value for money.
The table below gives G2 user ratings of some of MarketMuse's and Frase's most useful features.
| G2 ranking | MarketMuse | Frase |
| --- | --- | --- |
| SEO auditing and monitoring | | |
| SEO alerting | 7.3 | 7.6 |
| SEO auditing | 8.5 | 9 |
| SEO change tracking | 7.3 | 8.3 |
| Technical SEO | 7.7 | 8.3 |
| SEO content and rankings | | |
| Link building | 7.0 | Not available |
| Keyword research | 9.0 | 8.8 |
| SERP rank tracking | 8.5 | 8.6 |
| Localization | 7.8 | 8.4 |
| Content Insights | 8.7 | 9.6 |
| Planning for Content Creation Software | | |
| Collaborative Editorial Calendars / Scheduling Content | 7.2 | 8.8 |
| SEO reporting | | |
| Competitor analysis | 8.9 | 9.1 |
| Data visualization | 8.2 | 8.9 |
| Custom reports | 7.2 | Not available |
| White Label | 7.2 | Not available |
MarketMuse has 4.6/5 stars (from 198 reviews), while Frase has 5/5 stars (from 259 reviews).
If you need more options before opting for an SEO and content generation platform, try Dashword - a powerful SEO and content tool that offers an array of features necessary for composing great content (including NLP technology, insightful keyword recommendations, thorough content briefs, and an excellent text editor).
This platform features an intuitive, user-friendly interface with plenty of free resources, as well as a complimentary initial report, and checking it out is well worth your time.