Content Harmony is an SEO tool that allows content creators and digital marketers to optimize their content and drive more organic traffic. 
But if the high price and unintuitive user interface make you want to consider alternatives, you're at the right place. We'll break down the strengths and weaknesses of the top 6 alternatives and why they may or may not be a smart choice for your business needs. 
Dashword
Dashword is an online SEO content optimization software helping businesses and individuals streamline their content creation process and boost organic traffic to their sites. With Dashword's software, you'll create and edit content pieces easily and quickly. 
The tool has a focus on simplicity, with an interface that gives you the most important data without overwhelming you with information.
Pricing: 20 reports for $99
Because we try to keep things simple, Dashword offers two pricing plans: Startup and Enterprise. 
The Startup plan that costs $99 per month is best suited for smaller teams. It includes 20 content reports, 5 user seats, an unlimited number of content briefs, and an AI Writer (up to 50k words). 
For the same price, in Content Harmony you get a limited number of 12 content briefs per month. Also, you have no option to use an AI writer in case you get stuck in a writerly rut, or when you need suggestions for meta descriptions and title tags. 
But if you manage a large content team, you'll benefit more from the Business plan, which costs $349 monthly. With it, you get all the benefits from the Startup plan (reports, content briefs, AI writer) alongside API access, content monitoring, bulk reports, and a single sign-on (SSO) feature. 
Compared to Content Harmony, you really get a bang for your buck, especially because Content Harmony's Enterprise custom plans begin from $1000 per month and onwards. Also, even in the enterprise plans Content Harmony doesn't include the option to generate unlimited content briefs, unlike Dashword.
Dashword's particularly great for teamwork because it allows up to 5 team member seats with the Startup plan and up to 20 with the Enterprise plan. You can also use Dashword to share reports and insights with external writers by making the individual reports public and sharing them with people who don't use the app. 
Reports
Another one of Dashword's strengths is its reports functionality. It generates detailed information on any topic you want to write about or optimize. 
You just need to type in the main keyword, and voila! You get all you need about the top 10 Google results and other relevant keywords for better SERP ranking. 
There are also FAQ/long-tail keyword recommendations you're advised to include in your content piece to make sure it targets more relevant searches and serves search intent. 
Content Monitoring
Listing down Dashword's most valuable features brings us to the content monitoring tool. As the name suggests, you can use it to monitor the performance of your content piece through essential SEO metrics like SERP position, content score, target keyword, views per week, and trends. 
The content monitoring tool is super effective for identifying content that's not performing well and comparing the content of competing websites to identify content gaps and writing opportunities. 
Content Brief Generator
Dashword's content brief generator lets you create outlines for your content with just a few clicks. It analyzes the structure of the best-ranking content pieces on Google to suggest headings with the highest ranking potential. 
In Dashword, you can also find out which external links your competitors use as references and then use them yourself as resources for your content or as a way to learn more about the topic you're writing about. 
Recap
You'll find some of Dashword's features in other SEO optimization software. But with its philosophy of keeping things simple and offering you just what you need, Dashword is an amazing Content Harmony alternative that is more convenient to use.
Plus, if you'd like to monitor how your content performs over time, Dashword's content monitoring tool can be of great help, and it's a feature you won't find in Content Harmony.
Clearscope
Clearscope is a powerful content optimization tool allowing writers and editors to research keywords and topics of interest, create briefs, and optimize their content before writing and after publication. 
This household name in the field of SEO optimization has some of the best tools on the market (coming with a hefty price, though). Users will find that tools like the content editor and content monitoring tool will help them improve their site's organic traffic and SERP rankings. 
One of their biggest selling points is their content reports powered by AI using real-time Google data. This feature helps you target the right keyword for your topic by showing you a monthly search volume and search intent insights. You can use this to choose high-volume keywords that will rank better on Google and increase traffic.
You'll also benefit from the simple, easy-to-understand content score scale measuring your content quality regarding readability and keyword usage, going from A+ (best) to F- (worst).
For writers, it offers example phrases that help them create precise articles with relevant keywords for better ranking. 
Clearscope also offers GoogleDoc and WordPress integrations that simplify your workflow and make sharing with others from your team easy. 
Plus, you can run reports. For example, if you enter a keyword you want to rank for, Clearscope will take a few minutes to bring you the top 30 pages on Google that rank for that keyword. 
Within the reports, you'll also get info on monthly searches, a grade summary of the top-ranking webpages (the average content of the top 10 and 30 webpages), links to these top-ranking webpages, and relevant terms. 
Recap
Clearscope is a top player among SEO content optimization tools, but the pricing may be out of reach for individual users and small businesses. After all, their cheapest plan starts at $170 per month, while the other two are custom priced. In comparison, Content Harmony's cheapest plan starts at $99 per month. So, if you're looking for a more affordable SEO optimization solution - particularly if you're a small team - Clearscope is not the best option.
Also, their interface is challenging for newbies, especially the Reports analysis section, so you should expect a bit of a learning curve when you're starting out. 
Clearscope and Content Harmony both help content writers improve their content pieces and to write quality content. However, Clearscope is more on point when it comes to locating the weak spots of the content piece because it helps more with the grading of the content and gives suggestions on how to improve this grade. 
MarketMuse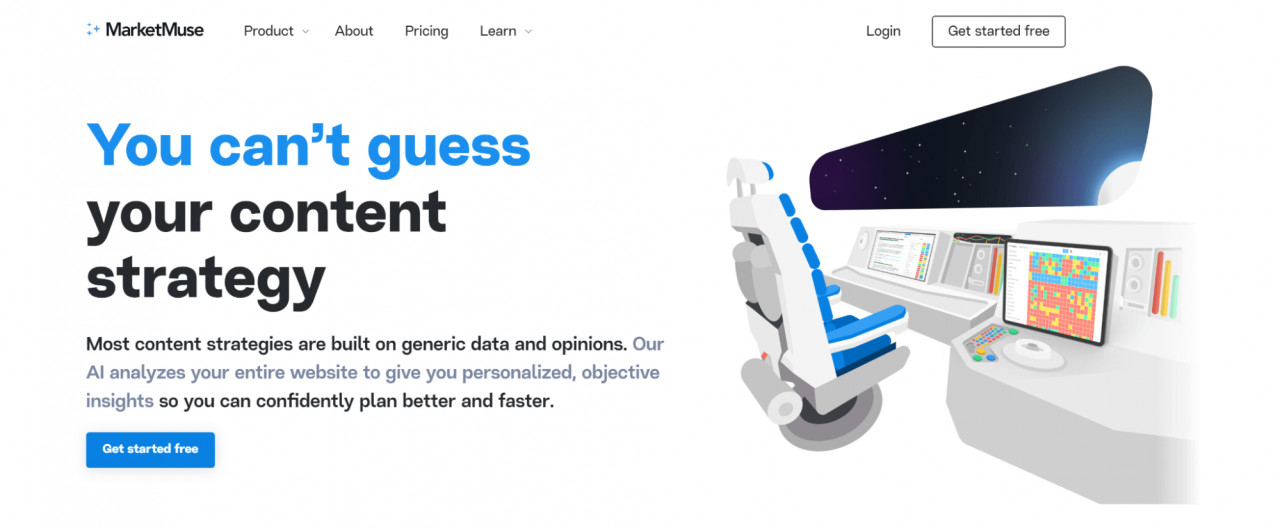 MarketMuse is another powerful SEO content optimization tool that offers comprehensive insights and feedback on your writing, as well as useful comparisons with top-ranking competitor content pieces. 
This software is not short on features, including the assisted keyword research and analysis tool and the personalized difficulty scores. Both will help you write engaging and high-ranking content in less time than you would usually do. 
You can tweak certain features, like reading level or article tone, to match your content to the needs of a particular target audience. 
One of MarketMuses' most interesting assets is the assisted keyword research and analysis tool we mentioned above. It automates topic clusters and keyword identifications and streamlines your content strategy by highlighting topic gaps.  
The software analyzes webpages and whole websites and provides detailed summaries on any topic you choose. It also gives users a content score that evaluates the article's accuracy, relevance, and originality according to the selected keyword or topic.
Some may find this super-useful, while others who want a more actionable and summarized analysis may be overwhelmed by the wealth of data. 
Another interesting thing about MarketMuse is the personalized difficulty scores that it assigns to pieces. The aim is to find any advantages or disadvantages over competitors and SERP ranking you might have for a specific topic or keyword. 
Using content briefs and AI-powered suggestions can further optimize your content pieces and improve your Google rank. 
Recap
MarketMuse has many exciting features that are very attractive to new users. However, like Clearscope, smaller teams and businesses may be unable to afford their prices, with the cheapest option being $149 monthly. Content Harmony, on the other hand, starts at $99 per month. 
Other than that, it's worth pursuing if you want more detailed feedback on new and old content pieces, thanks to its Assisted Keyword Research and Analysis tool and its personalized difficulty scores. If you're not satisfied with the SEO insights Content Harmony gives you, you'll definitely be with the ones MarketMuses offers, but it will come at the expense of ease of use. 
Frase
Frase is a content writing software powered by AI that helps businesses and writers research, write, and optimize SEO content quickly. Its advantage over other tools can be seen in how fast it can help you write optimized, high-ranking content. 
In fact, Frase's AI software can even write original content for you. That might sound tempting, but you shouldn't pass all your work to the AI assistant because it can get you in trouble with Google's algorithms and your readers, who can spot when something's written by a machine rather than a human.
Through Frase's research tab, you can find the top 20 highest-raking Google SERP results, alongside FAQs (long-tail keywords), headings, news, and statistics related to your competitors.
What's more, you can also use this software to create content briefs. Use them to develop different content ideas in no time, from blog posts, long-form or short-form articles, social media posts, and copy for marketing purposes.
The content brief is similar to the other tools on this list. It generates a report with key insights about the topic centered around a target keyword. 
Next, it analyzes the first 20 Google search results and their content. The aim is to provide essential information about the websites: topics, page headings, keyword-related questions (FAQs), and the external links that those websites contain. 
Frase also has an intuitive content optimization tool. To use the content optimization tool, you'll need to specify a keyword and the URL of a piece of content that is already published. The tool will then import your content and analyze it based on the brief created for the keyword. 
Finally, there's Frase's intuitive text editor, which scores content against your competitors through the topic model score. It provides a list of related topics and a recommended number of mentions for each topic. 
You can use the topic model to see what keywords you need to include for your content piece and compare the keywords with those in the highest-ranking competitor pieces. 
Recap
Frase is a good choice for individuals wanting a cheaper starting solution than Content Harmony or some of the other tools on this list since it costs only $14.99 monthly. It's also a good option for small teams who want a simpler and easy-to-use platform. 
Frase does have some exciting assets, like the topic model score and the AI writing software. However, you shouldn't rely entirely on the writing software to do your job - because it's not that powerful. 
On top of that, by relying too much on AI tools, you risk downgrading the quality of your content. People notice when an article lacks a human touch, and if readers don't like the piece, Google won't either. The latter is a bigger problem because your website may drop in ranking or your content might not perform very well in the first place.
Also, the keyword suggestions the AI gives do not always apply to the context you're writing it. So be mindful of that. 
Finally, unlike the other SEO optimization tools on this list, Frase only analyzes the top 20 highest-ranking competitors'  SERP pieces. In contrast, the others tools analyze the first 30 (including Dashword!). 
SurferSEO
SurferSEO is a cloud-based SEO optimization software that uses AI to analyze high-ranking pages and to give comprehensive insights into keyword usage, keyword relevance, and webpage structure. Starting at $59 per month, it's an affordable solution for data-driven business owners and companies, as it includes a lot of content analysis and optimization tools, like detailed SERP analysis, page audits, website tracking, advanced keyword research.
The software uses this information to optimize your content piece and get a higher ranking in the SERP results. It also gives you info about the pages of your competitors, so you can model your content after their high-ranking pieces and even create something better with all the information you have at hand. 
SurferSEO analyzes hundreds of data points from SERP results. That's why their reports are abundant with data about the image alt tags, the number of sponsored links, and the number of words in the text body. 
While for some people, this info will help create high-ranking content or optimize existing pieces, for others, it may be somewhat intimidating, distracting, and hard to master. Because there's so much data, you'd have to sort out what's more and less important for content optimization. 
SurferSEO uses Google NLP API. The caveat is that you'll need special NLP credits, which are limited to monthly use. 
Recap
SurferSEO is a great SEO optimization software for people and businesses that love the analytics side of optimization. It provides a lot of data that you can use to streamline your content, and for a good price at that. Compared to Content Harmony, which charges $99 per month for its Standard plan and doesn't include page audits and website tracking, for $59 per month, SurferSEO allows you to audit up to 20 pages per month and to optimize and track 2 websites. 
However, if you want more actionable optimization software, look elsewhere. 
The tool is better suited for experts with a rigid framework who know exactly what they want. It's not apt for people who are just starting with content optimization tools or just want easy, simple solutions to optimize their content pieces. 
Semrush Writing Assistant
Semrush Writing Assistant is a neat SEO optimization tool writers and SEOs use to optimize content efficiently based on target keywords. 
Created by Semrush, one of the best SEO toolmakers, the Writing Assistant enables you to research and track your competitors' keyword strategies. If you already have a website or blog, you can run an SEO audit and look for any backlinking possibilities. 
The Writing Assistant won't be a proper assistant if it doesn't help you improve readability. Semrush tells you the readability score of the top 10 competitors you're attempting to outrank, and it also provides recommendations for optimal word count. 
Another thing it does well is identifying the tone of voice used in the content piece. It can range from casual and neutral to formal. 
With their feature, Semrush will help you stay consistent in your voice throughout the entire content piece. What's more, you'll be able to see where you often sound too formal or casual, discover other tonal differences that stand out in the text, and fix that in seconds. 
The AI-powered Rephraser tool will help you turn cliche or repetitive sentences into new, better-sounding phrases and paragraphs. The Summarizer, however, will help you distill what you want to say in a few sentences. 
The Writing Assistant also automatically detects plagiarized content in a matter of seconds. If you have a team of writers, it will make it much easier for you to verify their content production this way. 
You can install this tool as a Google Add-on, Word Press plugin, and a Microsoft Word Add-on. 
Recap
Semrush's Writing Assistant is a neat tool that offers many features you can use to write better content. Some of these tools include the Rephraser and Summarizer, the identification of writing tone, the plagiarism detector, and the standard keyword researcher. Also, the Google, WP, and Microsoft integrations are a big plus, something that you can't find in Content Harmony. 
One of the biggest drawbacks of Semrush's Writing Assistant is the fact that it doesn't have an outline/content brief builder. That's a major difference compared to Content Harmony, which does offer what should be a standard feature with SEO optimization and analysis tools. 
Also, if you want to use the Writing Assistant, you must have a Semrush account, which starts at $119.5 per month - not the most expensive starting point on this list, but also not very affordable either. Content Harmony and Dashword start cheaper at $99 per month.
Which Content Harmony alternative is the right one for you?
Content Harmony is a decent tool but limited in functionality and quite expensive. It's worth considering other tools in the space that offer more for less.
We recommend giving Dashword a try and deciding for yourself.